A former elected Council Chairman of Oke Ero Local Govt of Kwara and former Commissioner for Youth &Sport, Environment and Agriculture, Hon Barr Anthony Kayode Towoju wish to congratulate Asiwaju Bola Ahmed Tinubu on his well deserved election as the APC Presidential candidateHon Towoju said this victory is as a resultof his hardwork, consistency and pragmatic politics
He urged him to remain focus and to carefully select a running mate who is knowledgeable in economics as the would be Vice president will head the nation's economic teamTowoju said Asiwaju must not be distracted on any sentiment but rather do the right thing that will promote good governance and the general welfare of Nigerians
"Nigeria is at the cross road and needs a person like Asiwaju to savage her.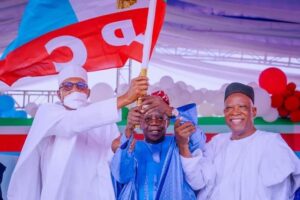 Asiwaju should bring his wealth of experience and expertise to make Nigeriamove forward," he added.
He enjoined all Nigerians to rally round Asiwaju by coming out enmasse to vote for APC in the coming general election since he opined that Asiwaju is the best candidate.