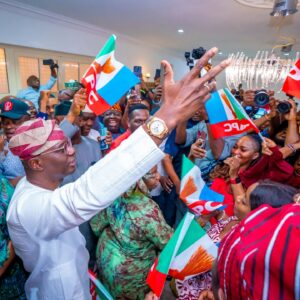 The Independent National Electoral Commission (INEC) announced the results at the commission's state collation centre, but not without the LP collation agent condemning the exercise.
Sanwo-Olu was declared the winner at 1:15 am on Monday morning, almost 48 hours after the electoral exercise commenced
He polled a total of 762,134 votes, defeating Gbadebo Rhodes-Vivour of the Labour Party who scored 312,329 votes, followed by Abdul-Azeez Adediran aka Jandor with 62,449 votes.
Moments after INEC's declaration, Sanwo-Olu, in his acceptance speech, said Lagosians had made their voices heard.
"To all of our fellow contestants, we want to salute you for participating in the democratic process, but Lagosians have spoken and have spoken well. They have spoken loud," he said.
"Please remember that we're extending a hand of fellowship to you, no victor, no vanquished. In the true spirit of sportsmanship, if you indeed believe that you want to serve this state, you have an opportunity with us and we will open our doors to listen and to give you a space in this government."
He also spoke out against the identity politics that became commonplace in the lead-up to the polls last Saturday.
"During this campaign, unfortunately, we have seen very divisive rhetoric which is not a definition of who we are," he said.
"So, Lagosians, we need to come together and further rebuild the capacity, the competence, and the experience that we have in this city. Religion should not divide us, ethnicity will not divide us. Lagos will come out bigger, stronger, and better."
Earlier, LP's Rhodes-Vivour expressed disapproval of the electoral conduct in Lagos, describing the process as a sham.
He took to Twitter on Sunday, saying, "Collusion between the ruling party and electoral officials to return the candidate of the APC is a slap on the face of democracy and everyone who came out to vote for us on Saturday.
"In the light of this, I am convinced beyond any doubt that the results being released by INEC do not represent the wishes of majority of peaceful Lagosians. More so the results from our field agents and situation room indicated that we won this election."
The architect stated that every vote cast for him was done in the face of intimidation and risk of personal harm, adding that every such vote must count.
"Defending every one of those votes is a sacred duty. I will defend your votes – this is my vow to every LP voter," he added.