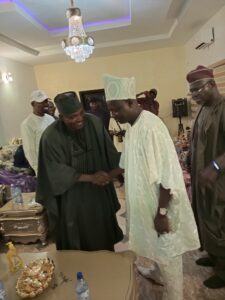 The ancient towns of Offa, Erinle, Ipee and Ijagbo literarily stood still as the gubernatorial candidate of the Kwara State Social Democratic Party, SDP, Alhaji Hakeem Oladimeji Lawal and his party continued the interactive sessions with diverse groups and stakeholders on Friday in Offa and Oyun Local Government Areas of the State.
A major highlight of the visit was the prayer by religious groups, notably the Council of Ulamas and the Christian Association of Nigeria, CAN, in the area for the success of the SDP gubernatorial candidate at the 2023 elections.
At the palace of Olofa of Offa, Oba Mufutau Muhammed Oloyede Gbadamosi, the Chief Imam and head of Ulamaas in the community, Imam Muideen Hussein Salmon recalled the efforts of the father of the SDP candidate, former Governor Mohammed Alabi Lawal in becoming the Chief Imam and prayed that God would clear every obstacle on the way of Hakeem Lawal's path to the Kwara State Government House next year.
In his meeting with the Christian Association of Nigeria, CAN, the umbrella group of Christians, the group reciprocated his discussion with them with a prayer for his success at the poll. According to Apostle S.A Akinremi, the CAN Chairman in the Local government, "God will help you to win this election; God will help you to accomplish your mission and ambition. We believe and heard about your father, and pray that you will be good like your father."
The scenario was similar in Erinle, where the CAN also prayed that God will use Hakeem Lawal as a tool in His hands to bring back the glory of the State and bring succor that will end the pains and suffering of the people.
Like the religious groups, the traditional rulers visited in the two Local Government Areas: Olofa of Offa, the Elerin of Erinle, Oba Ibrahim Abdulganiyu Ajibola; the Onipe of Ipee, Oba Muftau Adebayo Lawal Titiloye also recalled the good deeds of the father of the candidate and prayed fervently for his success in the 2023 polls.
Alhaji Lawal also met with party chieftains and diverse groups of artisans, community leaders in all the constituencies visited where he explained his agenda on education, agriculture, economic empowerment and industrialization to the excited crowd of supporters.
According to him, "my focus is to change the policy on Education, with emphasis on Science and Technology to drive our youths to become global citizens. Agriculture will also be modernized to maximize the full potentials of the sector for greater returns to the farmer in order to make farming attractive to both the old and the young."
"Our discussion today is a covenant between us. The two parties must do their part. When you vote for us, it becomes a debt for us to do our part too. I can assure you that we will deploy Kwara resources for Kwarans and strive to restore the glory of the State," he said.