Obasa to Remi Tinubu At 62: Your Roles In Nigeria's Democracy Are Indelible
The Speaker of the Lagos State House of Assembly, Rt. Hon. Mudashiru Obasa, has congratulated Senator Oluremi Tinubu on her 62nd birthday.
Dr. O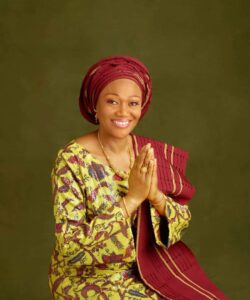 basa, in a statement by Eromosele Ebhomele, his Chief Press Secretary, described the former First Lady of Lagos as one whose love for Nigeria and roles in national unity and development are worthy of emulation by every well-meaning citizen.
The Speaker added that Senator Tinubu has continued to etch her name in the history of Nigeria as a politician of repute, a champion of the downtrodden and an advocate for the youth, the aged and good governance.
He noted Senator Tinubu's passion for a greater Nigeria both as a crusader for a more vibrant democracy and as a serving member of the National Assembly.
"As the loving wife of our dear leader and presidential candidate, Asiwaju Bola Ahmed Tinubu, you have been a major pillar of support and progress.
"That Nigeria practises democracy today is partly as a result of the roles you played while the military held on the the government of the country. History is replete with how you worked tirelessly against the annulment of the June 12, 1993 presidential election result won by Chief MKO Abiola and how you took care of many exiled members of the National Democratic Coalition and citizens of Nigeria who were at the time under the radar.
"As First Lady of Lagos State, your love for the education of the underprivileged in the society and the need to raise standards gave birth to your pet project, The Spelling Bee Competion, which, delightedly, has produced great minds and future leaders.
"Lagos is blessed with you and we are happy that you have remained a major support for the growth and development of our State. You have also remained a mentor to many Nigerians whose lives you have touched with your New Era Foundation and various scholarship programmes.
"On behalf of my family and members of the legislative arm of Lagos government, I congratulate you on your birthday and pray that God continue to bless you with good health, strength and divine capacity ahead of the bigger task before us all, amen," Obasa prayed.
Eromosele Ebhomele
Chief Press Secretary to the Speaker of the Lagos State House of Assembly.
WE NEED YOUR SUPPORT TO PRODUCE EXCELLENT JOURNALISM AT ALL TIMES.
SUPPORT US AT NEWSROOM NIGERIA @ Newsroom Communication Services: 2042789398, First Bank of Nigeria.