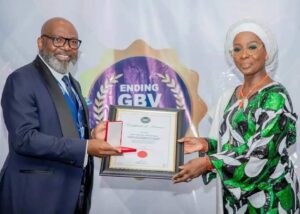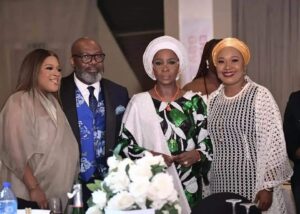 The First Lady of Kwara State and Founder Ajike People Support Center Her Excellency Dr Olufolake Abdulrazaq has commended the role the media and civil societies are playing in putting an end to the menace of gender based violence in Nigeria.
The Kwara State First Lady said this on Saturday 30th July at the Ending GBV conference with the theme "Ending GBV: the role of Media and Civil Societies" held at the Transcorp Hilton Hotel Abuja the Federal Capital Territory.
While presenting a keynote address at the event,  Abdulrazaq noted that the United Nations reported that 48% of Nigerian women experienced violence since the pandemic.
Hence she called for an approach that would be people centered, comprehensive, context-specific and contain prevention-oriented responses with potential to strengthen the protection and empowerment of all Nigerians especially the vulnerables.
Abdulrazaq added that It is the role of the media to change negative social norms on violence against women and girls and to raise awareness against the violence to shaping the public opinion and discourse in order to promote justice for survivors to influence behaviors including those of young people.
She however thanked and called for support for media organisations working to put stories in places where they need to be heard most and civil societies who have worked to revamp and renovate shelters and also help to look for lawyers willing to work pro bono in gender based violence cases in their respective communities.
Abdulrazaq highlighted the work been done in all the states since the declaration of the state of emergency against gender based violence with a focus on Kwara State. She called for more concerted effort by all stakeholders to curb the menace in the country. Amb Dr Abdulrazaq is the Chairperson of the Gender based violence committee in Kwara State.
At the dinner to commemorate the event,  Abdulrazaq was given an award of Excellence in fighting Gender Based Violence
The Ending GBV Conference 2022 is an initiative of Jose Foundation UK.
WE NEED YOUR SUPPORT TO PRODUCE EXCELLENT JOURNALISM AT ALL TIMES.
SUPPORT US AT NEWSROOM NIGERIA @ Newsroom Communication Services: 2042789398, First Bank of Nigeria.