In a significant development today, the Chairman of the Independent National Electoral Commission (INEC), Prof. Mahmood Yakubu, and the National Security Adviser (NSA), Alhaji Nuhu Ribadu, convened a high-level meeting at the NSA's office in Abuja. The purpose of this gathering was to assess the level of preparedness for the upcoming off-cycle Governorship elections in Bayelsa, Imo, and Kogi States, with a particular focus on logistics and security.
The meeting brought together top officials from INEC, Security Chiefs, and various security agencies. The collaboration between these critical stakeholders underscores their commitment to ensuring the smooth, secure, and credible conduct of elections.
Attendees at the meeting included INEC National Commissioners, the Secretary to the Commission, the Director-General of the Electoral Institute, Chairman Aides, Directors of the Commission and other staff of Commission. This diverse representation highlights the comprehensive efforts being made to address the logistical and security challenges associated with these upcoming elections.
The discussions in the meeting cover a range of critical issues, including voter access to polling stations, transportation, and distribution of election materials, and security measures to maintain a peaceful electoral process.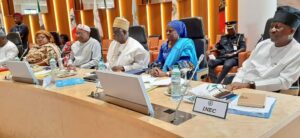 These preparations are pivotal to ensuring that the citizens of Bayelsa, Imo, and Kogi States can exercise their democratic rights in a safe and organized manner.
WE NEED YOUR SUPPORT TO PRODUCE EXCELLENT JOURNALISM AT ALL TIMES.
SUPPORT US AT NEWSROOM NIGERIA @ Newsroom Communication Services: 2042789398, First Bank of Nigeria.