By Suleyman Dunoma/Abuja,
Hamas released a video on Monday, showing three women who have been believed to be captives held by the Palestinian militant group since their terror attack on Israel on October 7, according to CNN.
This video is only the second one released by Hamas since more than 200 people were taken into Gaza.
It appears to be a move aimed at undermining Israeli Prime Minister Benjamin Netanyahu by criticizing his leadership.
The video depicts the three women seated in plastic chairs, facing the camera.
The woman in the middle addresses Netanyahu directly with increasing fury.
She references a press conference held by families of the hostages "yesterday," which suggests the video was filmed on Monday.
This video follows the breakdown of progress in hostage negotiations and references a supposed "ceasefire."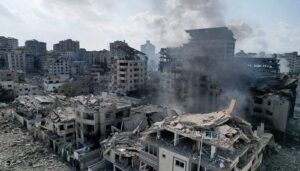 Israeli leaders dismissed talks of a breakthrough as a rumor and announced an expansion of the ground campaign.
The woman speaking in the video does not show visible signs of physical mistreatment, but it's unclear if her statement was made under duress.
The hostages have been identified by relatives as Elena Trupanov, Danielle Alony, and Ramon Kirsht. Aloni is the one addressing Netanyahu.
Netanyahu's office confirmed the names and expressed support for the women, stating:
"I hug you, our hearts go out to you and the other abductees". "We are doing everything to bring all the kidnapped and missing people home."
WE NEED YOUR SUPPORT TO PRODUCE EXCELLENT JOURNALISM AT ALL TIMES.
SUPPORT US AT NEWSROOM NIGERIA @ Newsroom Communication Services: 2042789398, First Bank of Nigeria.