President Bola Ahmed Tinubu on Monday spoke about the improper passageway of uninvited government officials and family members who observed the Federal Executive Council (FEC) meeting without a presidential invite.
Tinubu issued moral edicts before the commencement of the FEC meeting at the Presidential Villa, Abuja, on Monday.
The president expressed discontentment with the ill-behavioural act of work-out by uninvited administrators during his last proceeding at the FEC meeting.
Addressing the member of his cabinet, the president explained "Last week, I noticed people sneaking in and out of this council. People had access to this place when they should not. That is not acceptable."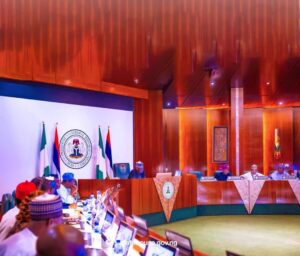 "I will announce to you here, people who are supposed to be here."Hadiza Usman, Special Adviser on Policy Coordination, Bayo Onanuga, Special Adviser on Information and Strategy, Hakeem Muri-Okunola, Principal Private Secretary and Damilotun Aderemi, Private Secretary," the President, announced.
"These are the people who are granted the exception to be here when we are conducting the business of the nation. Unless I sent for you, don't come," he added.
The president directed the Secretary to the Government of the Federation, George Akume, and the Head of Civil Service of the Federation (HCSF), Folashade Yemi-Esan, to take note of his directive.
"Unless they are your staff that are included, no one should have access to the FEC meeting, except I have announced their names to you.
"Let me also say that the planning of an event about the government must be well articulated and followed accurately," he said.
The Federal Executive Council (FEC) is the cabinet of the Federal Republic of Nigeria and is part of the executive branch of the Government of Nigeria. The council's role, as written in the Ministers' Statutory Powers and Duties Act is to serve as an advisory body to the President of Nigeria, who serves as the FEC's chairman. Members of the cabinet are, however, appointed and obliged to report to the President, and can be dismissed at any interval at the President's will.
WE NEED YOUR SUPPORT TO PRODUCE EXCELLENT JOURNALISM AT ALL TIMES.
SUPPORT US AT NEWSROOM NIGERIA @ Newsroom Communication Services: 2042789398, First Bank of Nigeria.