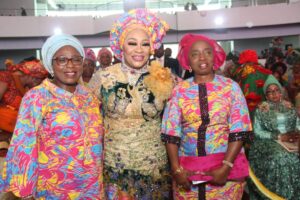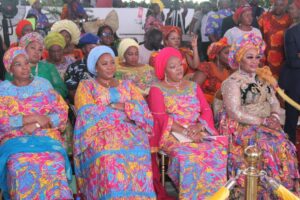 It was an electrifying atmosphere all through the period of 14th Arise Women Conference in Lagos, as participants were energized by the lively mode of speeches delivered by many speakers at the event. This year's edition, was observed to have recorded the highest turn-out of participants with over 20,000 occupying the four different venues from the New Trinity Towers, City of David Sanctuary, Havilah and The incubator all hosted guests from every part of Lagos and beyond.
Dignitaries from every sector, Politics, Business, Education and so on led by Deputy Governor of Lagos State, Obafemi Kadri Hamzat all turned up to honor the delectable Convener of Arise Women, Dr Siju Iluyomade and the entire Arise team on Saturday 29th October 2022.
in her welcome address, the Convener of Arise Women Conference, Dr. Siju Iluyomade stressed the importance of women in governance and the socio-economic development of the nation adding that the conference was organized to discuss and change the narrative of gender inequality and gender discrimination in the country. She stated that it is time for women in the country to arise and take their right position in the helm of affairs in the country and stop being an onlooker as they are designed and appointed by God to get to those high places.
While berating low participation of women in politics and governance, Dr. Iluyomade stated that as the 2023 elections approaches, they should come out in their large numbers to vote during the election. She emphasized that they need to vote to make their voice heard and if they are to influence the policies of the government.
Speaking at the event, the Deputy Governor, Dr. Hamzat stated that everyone at the conference has a major role to play in the development of the country adding that as parents particularly mothers, they exercise crucial function in the training and upbringing of their children in a Godly way for a better tomorrow. He commended the organizers of the conference for putting together the event which he described as very important to the future of the country. He added that Nigerians must be people directed by the activities of God, noting that nations that have done well are compassionate as they take care of the needy, elderly and are Godly.
Other Speakers at the event includes Former First Lady of Nasarawa State, Hajia Mairo Al-Makura, Professor Folashade Ogunsola, Vice Chancellor-Elect, University of Lagos, Hon Abike Dabiri-Erewa, DG, NIDCOM, Pastor Abimbola Ekwueme, Dr Annette Akinsete, National Director/CEO Sickle Cell Foundation among others.
The event which was equally televised live on Channels television witnessed lots of prominent gospel singers including famous Mrs D.A Fasoyin of 'odun lo so pin' fame.
Other prominent women that attended this year's edition are, First Lady of Lagos, H.E Mrs Ibijoke Sanwo-Olu , former first Lady of Imo State,H.E Mrs Nkechi Okorocha, former Lagos Deputy Governor, Sarah Sosan, Special Adviser to the President on Ease of doing Business, Jumoke Oduwole, Ruth Benamaisia-Opia just to mention few.
Free Arise pink bucket food baskets were also given out to the less privileged at the event.
WE NEED YOUR SUPPORT TO PRODUCE EXCELLENT JOURNALISM AT ALL TIMES.
SUPPORT US AT NEWSROOM NIGERIA @ Newsroom Communication Services: 2042789398, First Bank of Nigeria.