Ahead of the official commencement of political campaign for the 2023 elections, the galloping white horse symbol of the Social Democratic Party SDP has continued to attract supporters and admirers as hundreds of members of the All Progressive Congress, APC dropped their brooms and migrated to the camp of the SDP during the party's inauguration of its Campaign Council last Saturday.
Amidst chants and dance, the APC members in their large numbers stormed the Agba Dam Road, Ilorin venue of the event to formally dispense their brooms and pledged unalloyed love and loyalty to the rising SDP.
Led by Mallam Sophiullai Abdulyekeen, the decampees from Ilorin West Local Government Area and other areas of the State capital, expressed their disappointment with the ruling APC and lamented that the hope, emotion and sacrifice they invested in the struggle to enthrone the party in 2019 have gone awry due to bad methods and tactics of the government.
According to Abdulyekeen, Hakeem Lawal who is the SDP gubernatorial candidate represents another window of opportunity to reclaim their hope and continue with their journey to the Promised Land which has been truncated by the APC government in Kwara State.
The enthusiastic decampees were given the SDP membership cards by the party chairman, Alhaji Azeez Afolabi.
Also receiving the decampees, the guber candidate, Alhaji Lawal maintained that the SDP represents the new face of Kwara progress where all residents will benefit from its shared prosperity. He assured them that the SDP is the latest ray of hope to restore to glory of the state and return power to the people of Kwara.
Earlier, party heavy weights such as Alhaji Adamu Attahiru Manko, Kwara North Senatorial Candidate; Professor Wale Suleiman, Kwara South Senatorial Candidate; Alhaji Ganiyu Cook Olododo (Kwara Central Rep. Candidate) and Prince Saheed Popoola ( Kwara South Rep. Candidate) had electrified the venue with their carnival-like entry with large numbers of their followers in tow.
Before the latest round of change of camp in Ilorin on Saturday, the SDP had been receiving flows of members from both the PDP and the APC in Kwara North and Kwara North.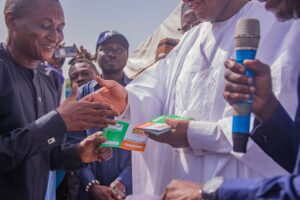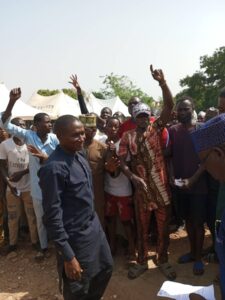 WE NEED YOUR SUPPORT TO PRODUCE EXCELLENT JOURNALISM AT ALL TIMES.
SUPPORT US AT NEWSROOM NIGERIA @ Newsroom Communication Services: 2042789398, First Bank of Nigeria.