By Gbenga Adefulu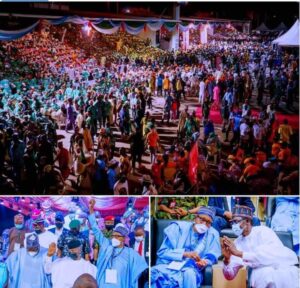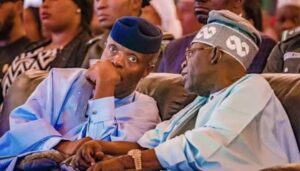 It is exactly five days to the All Progressives Congress (APC) presidential primary scheduled for Abuja. Given this last-mile week to the primary and the multitude of aspirants, it is apposite to assess which aspirant has which state(s) in the bag given the state of political play and ongoing groundwork by aspirants, the undecided/swing states and conclude with a projection of the winner. Before assessing which state is for whom, it is important to mention that APC may have 7,800 delegates vote at the primary if Buhari signs the amended 2022 Electoral Act in time or 2,322 elected delegates from the 774 Local Government Areas (LGA) in the country will decide the presidential candidate if the president withholds assent.
From my analysis, besides reducing total 'mobilization and logistics' costs for the aspirants and making the convention easier to manage and coordinate for the National Working Committee (NWC) of APC, the use of 7,800 or 2,322 delegates will not confer any material advantage on any of the aspirants even though the use of the 2,322 elected-only delegates will put the governors of the party in full and very firm control of voting patterns across the states. For the 13 states where APC has no governor, the party leaders, highest-ranking political office holders and state party chairmen in those states will influence and control the voting pattern of delegates but not as effective as a governor who has financial war-chest, office clout, political leverage and instrument of state to coerce and whip the more 'affordable' and malleable LGA delegates in line.
Also, of the 25 APC presidential aspirants who submitted their nomination and expression of interest forms to the party secretariat, two (i.e. Timipre Sylva and Akinwunmi Adesina) have pulled out leaving 23 in the race. From the political activities and efforts put into their campaigns to woo delegates since their respective declarations to contest at the primary, I have categorized the remaining 23 aspirants (all of whom are awaiting screening by the party) into 6 buckets. This categorization exercise is very important in order to give focus and direction to the meat of this article.
The first bucket is the joker aspirant. A joker is an aspirant who bought, filled and submitted the presidential forms and went home to sleep with the intention of appearing on May 29 at the convention venue and expectation of being crowned presidential candidate of APC just like that. The jokers are 4, namely: Pastor Tunde Bakare, Chief Ikeobasi Mokelu, Mrs Uju Ohanenye and Pastor Nicholas Nwagbo.
The second bucket is the non-serious aspirant. This is an aspirant who submitted the form but has no viable path whatsoever to clinching the party's ticket or even mounting any serious challenge for it. The only semblance of effort the non-serious aspirant and his kinsmen make towards clinching the party's ticket is to rant and call for their region to be given the ticket on a platter of gold. The non-serious aspirants are 3, namely: Chief Ogbonnaya Onu, Emeka Nwajiuba and Chief Ken Nnamani.
The third bucket is the pretender aspirant. A pretender is an aspirant who is skilled in camouflage. The aspirant appears to mimic the more serious contenders but a careful assessment of his political activities in the last few weeks will reveal that the political activities bear strong semblance to being on motion without movement. Such aspirant lacks the financial resources, influence, political leverage and following to mount a serious challenge for the party's presidential ticket. Some of the pretenders are believed to be spoilers and will likely 'step down' for the more serious aspirants on the eve of the convention. A few of these pretenders have visited a handful of states and made pitches to delegates while some have only been on TV granting interviews to promote their political ambition. The pretenders are 7, namely: Senator Rochas Okorocha, Tein Jack-Rich, Senator Sani Yerima, Senator Ajayi Borrofice, Governor Yahaya Bello, Governor David Umahi and Rt. Hon Dimeji Bankole.
The fourth bucket is the negotiator aspirant. A negotiator is an aspirant who knows too well he has no path to clinching the ticket and is not even in consideration in the eye of the party hierarchy. However, the aspirant still obtained and submitted the form in order to display clout, attract attention, revive his almost vanishing political relevance and secure a seat at the negotiating table either in terms of trading state delegates to the highest bidder among the serious aspirants, or strategically preparing the ground to position himself in the administration of the next government if APC wins the February 2023 presidential election. The negotiators are 3, namely: Senator Godswill Akpabio, Governor Ben Ayade and Senator Ibikunle Amosun.
The fifth bucket is the tricky aspirant. This is an aspirant who was nudged to join the presidential race in the hope that a Northerner will emerge as APC's candidate to counter the highly probable emergence of Atiku as PDP's presidential candidate. In the jaundiced reasoning of the promoters of this aspirant, only a Northern APC candidate can challenge Atiku/Northern candidate in the PDP. The major promoter of the tricky aspirant is Mai Mala Buni, the Governor of Yobe and possibly the APC National Chairman, Sen Abdullahi Adamu. Mala Buni toyed with and labored in vain to hold on to the chairmanship of the party's Caretaker/Extraordinary Convention Planning Committee (CECPC) which would have allowed him the opportunity to install Goodluck Jonathan as APC's presidential candidate with Buni himself as running mate. The tricky aspirants are 2, namely: Senate President Ahmed Lawan and Governor Mohammed Badaru of Jigawa State. It is important to mention that the thought of APC giving its presidential ticket to a Northerner resides only in the heads of Mala Buni, Badaru and maybe the APC National Chairman. They are clearly not on the same page with other Northern Governors and are thus on their own. Ahmed Lawan has also obtained and submitted his nomination form for re-election into the senate. Could he be a spoiler? Time will tell.
The last bucket is the serious aspirant. This is an aspirant who truly believes he has a viable path to clinch the APC presidential ticket and has accordingly, put in the time, effort and resources into achieving his ambition. This set of aspirants have practically toured the entire country and met with traditional rulers, governors, party delegates, party leaders and so on. Their campaigns have dominated political headlines in the last 3 weeks and will only get more intense in the next 7 crucial days. The serious aspirants are 4, namely: Asiwaju Bola Ahmed Tinubu, Vice President Yemi Osinbajo, Rt. Hon Rotimi Amaechi and Governor Kayode Fayemi.
Having separated the wheat from the chaff, I will now assess the chances of the 4 serious aspirants at the primary vis-à-vis which state is for whom starting with the decided states to the undecided/swing states. Fayemi has Ekiti firmly in the bag. No contest. If only the 2,322 elected LGA delegates will vote at the presidential primary, Fayemi has 100% of the 48 Ekiti delegates (3 delegates from Ekiti's 16 LGAs) secured given that he and his state party chairman submitted the LGA delegates list to the national secretariat. This was the practice in other states. The states didn't hold any proper elections for the LGA delegates.
They simply worked to the answer by selecting the most loyal members per LGA, declared them elected and submitted the list to Abuja. If the 7,800 delegates (elected and statutory) will vote at the convention, Governor Fayemi can be assured of at least 80% of the delegates' votes. This is because a governor or one individual cannot possibly corral all statutory delegates—a large and less manageable number—which includes national officers of the party from the state, serving and former presidents and vice presidents; serving and former governors and deputy governors; serving and former federal lawmakers; serving speaker, deputy speaker and principal officers of the state house of assembly; council chairmen; party chairmen and secretaries at LGA level; and state working committee members—some of whom are larger than life, are respected party leaders and very influential in their own rights—to vote along the same line.\
For instance, Governor Fayemi cannot compel Senator Opeyemi Bamidele (Ekiti Central) to vote for him on May 29. Opeyemi is a leader in his own right and was former commissioner in Lagos under Tinubu. This ground rule will apply to all other aspirants in their respective states of strength.
Tinubu has 14 states firmly in the bag. These are Lagos, Osun and Ondo in the South West; Kano, Katsina, Sokoto and Zamfara in the North West; Niger and Nasarawa in the North Central; Bauchi, Gombe, Adamawa and Borno in the North East; and Edo in the South South. Amaechi has 2 states in the bag. They include his home state of Rivers in the South South and Plateau in the North Central.
Sadly, Osinbajo currently has no state decided in his favour.
Given that president Buhari has not signed the amended 2022 Electoral Act as of May 21st, Saturday night, I will use the 2,322 LGA delegates list for the rest of this analysis. With 1 decided state for Fayemi, 2 for Amaechi and 14 for Tinubu, the three aspirants have 48, 120 and 954 votes respectively. These votes sum to 1,122 and represent 48% of the 2,322 votes on offer. This leaves us with 19 states and the FCT and this is where it gets very delicate and interesting. I will assess the aspirants' chances by geopolitical zone in the 19 states and FCT.
Of the 19 states, two negotiator presidential aspirants, Governor Ben Ayade of Cross River and Senator Godswill Akpabio of Akwa Ibom, control the party structures in their respective states. Option 1 for both aspirants is to sell their delegates to the highest bidder and here, Tinubu will be in pole position to buy given his vast financial warchest. If they do not sell and want to show political gravitas at the convention venue, both of them will secure 100% of the delegates' votes from their respective states. I bet on the latter option because the essence of the negotiators showing political gravitas would be to convince whoever emerges as the APC presidential candidate that they are relevant in their states and can deliver the state to the candidate in the February 2023 presidential election.  Also, pretender aspirants, Governor Yahaya Bello of Kogi and Governor David Umahi of Ebonyi will secure all the delegates' votes in their respective states and that is where their presidential aspirations will end. No more!
For the tricky aspirants, Senate President Ahmed Lawan and Governor Muhammad Badaru of Jigawa State, Governor Mai Mala Buni will deliver 100% of Yobe State delegates' votes to his kinsman, Lawan while Badaru has all his state's 81 delegates in his pocket.  With the aforementioned 6 states cleared out of 19, we are left with 13 undecided/swing states (i.e. Ogun, Oyo, Bayelsa, Delta, Kebbi, Kwara, Kaduna, Benue, Taraba, Abia, Imo, Anambra and Enugu) and FCT.
There are 2 undecided states in the South West: Oyo and Ogun. Oyo has no APC governor and is currently bitterly divided following the last congress to elect state party executives. Although Bayo Adelabu, former deputy governor at the Central Bank, is the frontline APC gubernatorial aspirant in the state and is sympathetic to Tinubu's cause, the same cannot be said of the other party leaders in the state. There appears to be no rallying point in the state or a respected political figure who is acceptable to all party tendencies and influential enough to provide guidance and direction. As such, the 99 delegates' votes in Oyo will be shared between Tinubu, Osinbajo and Fayemi with preponderance for the highest bidder. Tinubu should bank 65% of the votes due to his spending power, political structure, clout and accepted Yoruba leadership in the South West. Osinbajo will bank 30% based on self-recognition and respect for his office because he cannot match Tinubu with the ₦250,000 and sometimes $300 dollars he gives to delegates during his political consultation visits. Fayemi will get the remaining 5%.  Ogun with 60 delegates is quite dicey.
Governor Abiodun, though may appear sympathetic to Osinbajo, has been taciturn in recent times given that he relies extensively on the political structure of Tinubu's protégé, Senator Solomon Olamilekan (Yayi), in the Ogun West Senatorial district and appears wary of offending Tinubu given the support Tinubu provided to him in 2019 when he tangled for the APC guber ticket with Amosun's anointed candidate. Also, where does the loyalty of Osoba and Gbenga Daniel lie?
With Tinubu or Osinbajo? Amosun has been edged out in Ogun completely as the party structure is firmly in the hands of Abiodun/Yayi. Give or take, Tinubu and Osinbajo will share the state 50:50. 50% for Osinbajo because Abiodun may want to help the VP save face by reducing any probable electoral embarrassment. It would be politically scandalous for Osinbajo who lost his polling unit in Lagos in 2019 to also lose his state in the presidential primary in 2022. Fayemi and Amaechi have no chance in Ogun State.
There are two undecided states in the South South: Delta and Bayelsa. Ordinarily, Delta State should pitch tent with Tinubu given his heavy involvement and support for the emergence of Ovie Omo-Agege and Ahmed Lawan as Deputy Senate President and Senate President respectively in 2019. But this is politics, cold, cruel, bitter and uncertain. If Fayemi can deny Senator Bamidele the APC governorship ticket despite Bamidele taking a bullet in the stomach for Fayemi in 2018 while acting as Fayemi's re-election campaign Director-General, nothing is assured or certain in politics. No guarantees!
Although Ovie Omo-Agege controls the party structure in Delta, it is widely believed he is surreptitiously working for Osinbajo and has been trying to conceal it. Yet, some Delta State party leaders like Elder Ehuna and followers of late Senator Okpozo, both of whom went with Ovie Omo-Agege to Tinubu some years ago, and Tinubu handed the defunct ACN party structure to them feel heavily indebted to Tinubu and are ready to return the favour. Give or take, Osinbajo should get at least 60% of the votes in Delta while Tinubu will get 35%. Amaechi will pick the remaining 5% for the sake of south-south solidarity. Bayelsa has only 27 votes which may be up for the highest bidder and ethnic solidarity. Tinubu and Amaechi should share this 50:50.
In the North West, Kaduna and Kebbi are undecided. No one knows the mind of El-Rufai. Could he be negotiating a VP slot in return for delegates support for any of the southern aspirants? He appears to prevaricate between Amaechi and Tinubu. He is definitely not an Osinbajo man and does not pretend to be. Has he forgiven Amaechi for engineering the sack of his protégé, Hadiza Bala Usman, from her position as Managing Director of Nigerian Ports Authority (NPA)? Dicey! Is the allure of a VP/running mate slot to Amaechi enough soothing balm? I will call Kaduna 50:50 for Tinubu and Amaechi. Kebbi state governor, Bagudu, may pitch tent with his ally, Governor Badaru of Jigawa and deliver the 66 Kebbi votes to him. Bagudu will definitely not work with Mai Mala Buni or deliver any votes to Ahmed Lawan.
Kwara and Benue in the North Central and Taraba in the North East are also undecided. Ordinarily, given his contributions to the sack of the Saraki dynasty by APC in 2019 and for which Governor AbdulRahman AbdulRazaq has expressed profound gratitude to Tinubu, Kwara should be called for Tinubu. Also, given his strong relationship with Senator George Akume, Benue should naturally be called for Tinubu. However, both AbdulRazaq and Akume have been quite reticent in their support for Tinubu.
Are they being discrete, unsure of their conviction or are just deliberately quiet out of respect for Vice President Osinbajo even though their on-ground supporters and party members are highly vociferous in their support for Tinubu? Tinubu should get 70% of Benue's votes and 80% of Kwara's votes while Osinbajo would pick the balance in both states. In concluding the North, FCT and Taraba have 18 and 48 votes respectively. Both are up for grabs as they cannot be called for any aspirant. I project 30% each for Tinubu, Osinbajo and Amaechi and 10% each for Lawan and Fayemi.
Finally, in the South East, Imo, Enugu, Abia and Anambra states are also undecided. Governor Uzodinma will deliver at least 50% of the votes from Imo state to Lawan while Okorocha and Nwajiuba will share the balance, 25% each. Ogbonnaya Onu is from Abia and should pick at least 50% of the votes from the state while Orji Uzor Kalu will deliver the remaining 50% to Lawan. Former Senate President, Ken Nnamani and former Information Minister under Abacha, Chief Ikeobasi Mokelu, are from Enugu and Anambra respectively.  It will be unfortunate if both cannot deliver 100% of their respective states' delegates' votes to themselves.
After all said and done, the projected result of the APC presidential primary will look like this: Tinubu—1,227 votes (52.8%), Amaechi—192 votes (8.2%), Osinbajo—154 votes (6.6%), Badaru—147 votes (6.3%), Lawan—128 votes (5.5%), Akpabio—93 votes (4.0%), Mokelu—63 votes (2.7%), Bello—60 votes (2.6%), Fayemi—56 votes (2.4%), Ayade—54 votes (2.3%), Nnamani—51 votes (2.2%), Umahi—39 votes (1.7%), Onu—26 votes (1.1%), Okorocha—16 votes (0.7%) and Nwajiuba—16 votes (0.7%). In summary, Tinubu will likely emerge as APC presidential candidate while Amaechi will come second. Osinbajo will be 3rd, Badaru 4th and Lawan 5th. And what will happen afterwards? Lawan will recalibrate his focus and pursue his senatorial re-election bid.
Dr Gbenga Adefulu, an economist, digital media consultant and public affairs analyst writes from Ikeja, Lagos. He can be reached through drgbengaadefulu@yahoo.com and blogs at https://gbengaadefulumusings.blogspot.com/THIS ARTICLE IS DA BOMB. But let those who want to carry expo keep at it.
WE NEED YOUR SUPPORT TO PRODUCE EXCELLENT JOURNALISM AT ALL TIMES.
SUPPORT US AT NEWSROOM NIGERIA @ Newsroom Communication Services: 2042789398, First Bank of Nigeria.