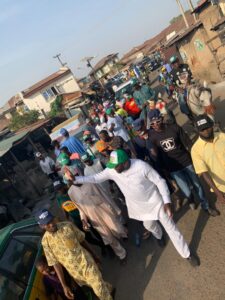 Hundreds of youths and women on Saturday staged solidarity walk in Badari Ward, Ilorin, the state capital to pledge their unalloyed support for the Social Democratic Party (SDP) Ilorin West/Asa Federal House of Representative Candidate, Alhaji Ismail Abayomi Adisa and other Social Democratic Party (SDP) candidates ahead 2023 general elections.
The street rally led by Badari SDP ward Chairman Mr Musa Kolawole kicked off at Ismail Adisa Campaign Ofiice, Diskabog Building, Oja-Iya Street Off Taiwo Road and the enthusiastic SDP supporters move to different parts of the Vicinity including Ita-Amodu, Oke Bada, Taiwo Road, Mejindadi, Oja-Iya and others.
They displayed banners containing name and Picture of the Candidates and other campaign materials to promote the candidate who is seeking the support of the masses.
While addressing newsmen at the Campaign Secretariat in Oja-Iya, the Candidate Alhaji Ismail Abayomi Adisa said SDP remains the only better Alternative political party that can pilot the affair of the State to its promise land.
"I urge to to go back to your polling units and wards to mobilize support for Myself, The Governorship Candidate Alhaji Hakeem Oladimeji Lawal and other SDP candidates. Vote SDP for President, Senate, House of Representatives, Governorship and House of Assembly come 2023. We are going to lay good foundation for development. We will implemented projects in every local government area.
The Magaji Ngeri SDP state assembly Candidate, Hon. Yahaya Bayero and Some other SDP chieftains present the masses implored not to fall tricks of the present Failed Government and the defeated dynasty that are desperately looking for ways to come back.