Oke Ako, a community in the Ajoni Local Council Development Area of Ekiti State, erupted in joy on Tuesday as a cleric, Michael Adeyeye of Christ Apostolic Church in the community escaped unhurt from the four gunmen who abducted him on Saturday.
Residents of the community could not believe their ears when news filtered in on Tuesday morning that the cleric had escaped and was at Eruku in Kwara State awaiting a vehicle to convey him back to Oke Ako.
It was carnival-like as the cleric arrived the community in the afternoon to the waiting arms of youths and the elderly who sang and danced around the town.
Adeyeye, while recalling his experience, said he, alongside the four gunmen who initially demanded N50million ransom before reducing it to N15million, walked in the forest throughout Saturday night and Sunday.
He said, "We were in church for a vigil on Saturday. At about 10.20 pm, four armed men arrived the church, saying 'where is a pastor?' On locating me, they tied my hands and ordered me to follow them. We went into the bush.
"The following day, Sunday, they asked me to call my family to get N50million ransom across to them for me to regain my freedom. We were using my phone which they had already seized for the calls. Later, they reduced the ransom to N15million.
"Unfortunately for the gunmen, on Monday morning, at about 5 am, the God of covenant demonstrated his awesomeness. I saw the CAC Founder, Apostle Ayo Babalola, in a vision. That was what woke me up to discover that my abductors were fast asleep.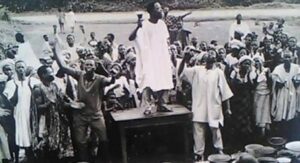 "So, I rose and stealthily moved away from the location into the bush. I kept walking in the bush until Tuesday morning when I got to Eruku, a town in Kwara State. On getting to the town, I called one of my brothers whose phone number I know offhand."
Adeyeye said, "Their guns looked like AK-47, the guns appeared fabricated. I am happy about my escape. I am happy to be reunited with my people and church members. I can see love from the community."
WE NEED YOUR SUPPORT TO PRODUCE EXCELLENT JOURNALISM AT ALL TIMES.
SUPPORT US AT NEWSROOM NIGERIA @ Newsroom Communication Services: 2042789398, First Bank of Nigeria.