The gubernatorial candidate of the Social Democratic Party, SDP in Kwara State, Alhaji Hakeem Lawal on Saturday, felicitated with his Director of Media and Strategic Communications, Mr. Oluwasegun Abifarin on the occasion of his birthday.
The event which took place at the campaign office of the party along Agba road, GRA Ilorin, the State capital saw Alhaji Lawal presenting a beautiful cake to the celebrant and taking photographs with him and his media team.
The celebrant also received prayers from the gubernatorial candidates and goodwill messages from party chieftains present, including Architect Kale Belgore, the SDP's DG Campaign Council, Alhaji Adamu Manko, the SDP Senatorial Candidate for Kwara North and Dr. Bolaji Afolabi, the Secretary of the Campaign Council, among others.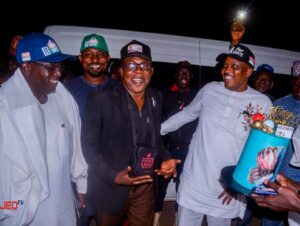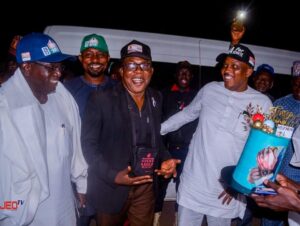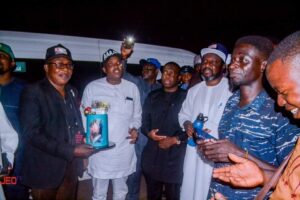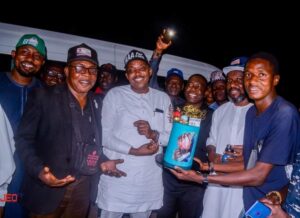 After his service year in 1992, Abifarin was part of the pioneer staff at Promptlink Limited, that published Labour Mirror for the Nigerian Labour Congress.
After a while, he desired to be part of the pioneer team at the TheNews magazine as a Reporter Researcher in 1993
When the Abacha jackboot was becoming too heavy, Abifarin stepped aside from journalism and joined the Danish-Nigerian Chamber of Commerce as the Executive Secretary.
He almost caused a diplomatic row between Nigeria and Denmark, when he issued a press release condemning the execution of Ken Saro Wiwa, the Ogoni Rights activist, by the Abacha junta.
But the Journalism in him will not allow him as he left for Financial Standard Newspaper, from where he later joined the Week Magazine with Simon Kolawole who is now Publisher of The Cable.
Though Kolawole later left for Thisday, Abifarin stayed back and rose to become the Editor of the magazine.
From The Week, he moved to The Source magazine, from where he left for a stint in TPT, an International PR firm as Head of Media and Strategy.
It was after this that he decided to start his own online news magazine: Newsroom Nigeria, www.newsroomnigeria.com
Before joining the SDP/Hakeem Lawal Campaign Council as the Head Media and Strategic Communication, Abifarin was the Special Assistant, SA Media to Gbenga Olawepo Gubernatorial Campaign in 2011 and Senior Communication Adviser to Gbenga Olawepo APC Presidential Aspiration in 2021.
Armed with a Bachelor's and a Master's degree in Mass Communication, Abifarin is a professional journalist who knows his job.
He has won various awards, including the Nigeria Media Merit Award as Business Reporter of the Year and Bank/Finance Reporter of the Year amongst others.
He is a member of the Nigerian Union of Journalist, NUJ Nigerian Guild of Editors, Guild of Online Editors, GOME and African Center for Investigative Journalism
The SDP/Hakeem Lawal Media Director was also the Publicity Secretary of the Kwara Development Foundation, KWADEF that participated fully in the Otoge revolution of 2019 in Kwara state. He was also the Editor of Kwara Chronicle, a publication of KWADEF.