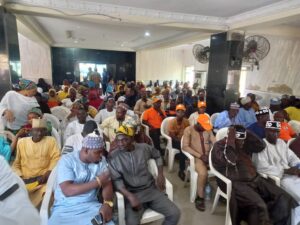 24th September, 2022
AREWA COMMUNITY APC
LAGOS STATE
HEAD QUARTER: No. 198, Ikorodu Road, By Palmgrove, Lagos.
PRESS RELEASE
NOTIFICATION AND CORRECTION OF ARC. KABIRU AHMED MISREPRESENTATION OF FACT ABOUT AREWA POLITICAL LEADERSHIP AND DISRESPECT TO OUR TRADITIONAL LEADERS
All protocol duly observe,
Gentlemen of the press
Invited guests, ladies and gentlemen.
Permit me to welcome you all to this August gathering regarding the nefarious activities of Arc. Kabiru Ahmed Abdullahi Commissioner for Waterfront Infrastructure.
We the Arewa Community APC in Lagos State have the course to issue the press release in order to set the records straight owing to the facts that, for quite a long time since the first republic after Nigeria attain her independence in 1960, we have ever being together as one indivisible block and do everything together, where there is an issue of conflicting interest, it does not take us time to address it and resolves it ones and for all particularly through our leaders.
In 2007 after Governor Babatunde Fashola emerge as the flag bearer of Alliance for Democracy AD, the then chairman of Arewa in person of Late Alhaji Sidi Ali was elected chairman in 1999 unopposed in Idiaraba Primary School Mushin while Arc. Kabiru emerges as the Gen. Secretary.
If you may all recollect, that  the election which brought Fashola into power was so overwhelming as he pulled over 1.5 million votes which is unprecedented, the campaign was led by Late Sidi Ali, ever since then,  Kabiru became envious of Sidi Ali's performance and apparently led a group in mutiny to overthrow the democratically elected chairman which led him to forcefully ceased the party bus which the then chairman of Alliance for Democracy officially given to Sidi Ali on personal recognition of his immense contributions and hardwork in all the election conducted from 1999-2007, not only that but adopted a unique strategy where by he ensure our people trouped out to vote massively for Babatunde Fashola.
Meanwhile, Kabiru was appointed as General Manager Lagos State Planning and Environmental Monitoring Authority (LASPEMA) by Asiwaju Bola Ahmed Tinubu, and ever since he overthrew Late Sidi Ali as chairman for his selfish interest, since then Sidi Ali health has never been the same till he met his death.
If you may recall we have written several letters challenging his claim and for usurpation as Arewa Chairman.
It will interest you to know that our people are not happy with his activities and self impose by grabbing power through the back door, and apparently made our people stopped going out to vote.
If I may ask, can you eat your cake and have it? if the answer is No, it means there is no separation of power as enshrined in APC constitution and the Nigerian constitution where it clearly stated the duty of the governor is not in anyway in conflict with that of the state chairman of the party.
In Kabiru's case, due to his envious character and thirst for power, he has been parading himself as Arewa chairman illegally, telling all sort of lies in the corridors of power and to our party leaders.
No where election ever took place, anytime we planed to organize an election Kabiru will go and meet the state chairman and sabotage the process in order not to hold because he knew that he is unpopular.
If not with the personal effort and resources I committed by touring all the 57 Local Government and the 37 LCDAs where I talk to our people and rekindle back their hope, many of our people have taken a position not to go and cast their votes so long as Kabiru is the one to lead the Arewa in the next coming campaign in 2023.
But I can assure you now that with my coming on board as the chairman of Arewa Community APC Lagos State, I have been able to win back the heart of our people.
We wonder what Arc. Kabiru Ahmed wants to achieve in cheap blackmailing of some of us.
It is worthy of note that, we the Arewa Community in Lagos had and have been contributing largely to our greet party since AD to date, in which all the major markets controlled by the Arewa people usually contribute funds to organize major rallies for all past governors. But Kabiru has never organize one personally without resorting for financial support from the party.
Ironically for the past twenty one years that Kabiru has been holding public office, he has never done any empowerment not even once nor gave scholarship to our students.
The Arewa Community is fed up with recycling of only one man  representing us for over twenty years.
For the past twenty years Kabiru has engage in character assassination by written petitions against the Sarkin Hausawa of Lagos, the Sarkin Fulani of Lagos, the Sarkin Agege alleging that they are the once who killed his brother; this is a lie from the pit of hell.
Asiwajus election is critical to us and it is his turn to be president of Nigeria come 2023, therefore all hands must be on deck because it is payback time, hence Asiwaju need total and overwhelming victory in 2023 Insha-Allah.
Progress is impossible without change and those who cannot change their minds cannot change anything.
Thank you for listening.
Engr. Saadu Yusuf Dandare
Chairman Arewa Community APC
Lagos State & Chairman Arewa Community APC South-West