The restoration of the glory of Kwara and its return to the path of progress are hinged on the emergence of a "better manager of men and resources" as governor in the 2023 election in the State.
This was the submission of Barrister Yusuf Bolakale, the Traditional Ruler of Bode Saadu in Moro Local Government Area as the entourage of the Kwara State Chapter of the Social Democratic Party, SDP paid him a courtesy call ahead of the party's campaign flag off in the area.
The Monarch lamented that the Kwara North Senatorial District remains the least developed part of the State and only a good manager can halt the rampaging scourge of poverty, neglect and underdevelopment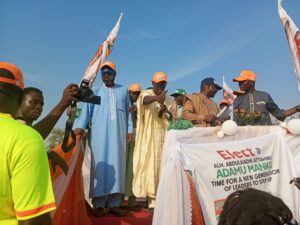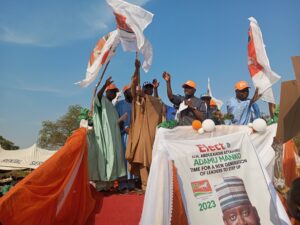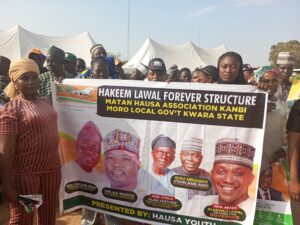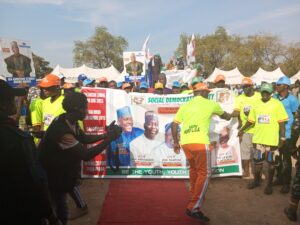 in the zone and by extension, the State.
"We will give our trust to you and hope that the people we will vote for will remember God and the people after the election. I welcome you to my domain and pray that God will grant your desire," the Traditional Ruler said.
In line with the Monarch's desire, the party gubernatorial candidate, Alhaji Lawal had, during the interactive session with groups and stakeholders in places visited, restated his reform agenda in the areas of Education, Agriculture and Local Government administrations for the socio-economic transformation of the State.
According him, Kwara used to be a leading light in the Northern region, but sadly, the reverse is the case today. The SDP is ready to restore those glorious days and put Kwara back on the path of progress.
After the royal blessings, the SDP campaign train later moved to the rally venue and was welcomed by intimidating crowd of party supporters comprising youths, women groups, local vigilantes and drummers.
Addressing the crowd, the Chairman of the party, Alhaji Azeez Afolabi thanked them for the massive support and urged them to resist every attempt to seduce them and buy their conscience and votes. He thereafter presented the party flags to the contestants from the zone, chief among which is Alhaji Abdulkadir Attahiru Manko who is the SDP Senatorial candidate for Kwara North.
In his own address, the party's Deputy Governorship candidate, Reverend Joshua Olakunle who represented the gubernatorial candidate, Alhaji Hakeem Oladimeji Lawal maintained that the SDP remains the only credible route for Kwarans to get out of the desert of incompetence, misrule and underdevelopment.
He added that his party will form and run an inclusive government that will be hinged on the fear of God and respect for the people.
The Director General of the party's Campaign Council. Alhaji Khaleel Bolaji admonished the party supporters to vote all the party's candidates and remain firm and resolute to defend their votes during the election.
The same line was echoed by Dr. Bolaji Afolabi, Secretary of the Campaign Council, who is an indigene of Moro Local Government, when he told the people to prove that they there are "true sons/daughters of Moro" by voting for the SDP in the forthcoming election.