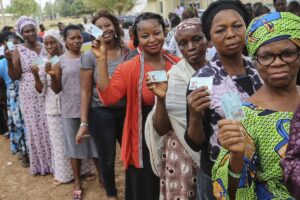 The General Overseer of the Redeemed Christian Church of God (RCCG), Pastor E.A. Adeboye has debunked the insinuation that he has anointed the Vice President, Professor Yemi Osinbajo as successor to President Muhammadu Buhari.
In recent time, newspapers have been awash with stories that he has anointed the current number two man, who is also one of the senior pastors in church, especially with the creation of a Politics Unit in the RCCG.
The cleric who spoke during his monthly thanksgiving message in the church on Sunday, 03 April 2022 challenged anyone who had seen him anointing any candidate to come out with evidence, said he remains a father to all the aspirants coming up on the platforms of all the political parties in the country and that it would be unjust to anoint any candidate, stressing further that he has never voted for any candidate in the elections conducted.
Pastor Adeboye told his congregation that he is yet to hear from God that there would be elections in 2023, believing that why God has not spoken to him is because of the need to resolve many national issues, especially the endemic corruption in the country. According to him, with the current state of the nation especially the pilfering in the oil sector, it would be impossible for anyone to prophesy that election would take place in 2023.
However, he urged his listeners to obtain voter's cards to be able to exercise their voting rights during forthcoming elections.