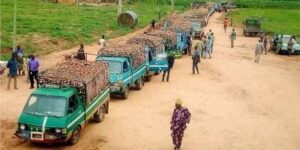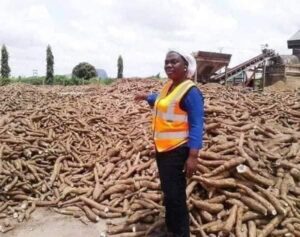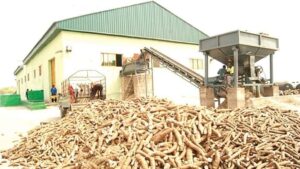 By Oluwasegun Abifarin
Perhaps, the biggest revelation coming out of government's backward integration gospel is Psaltery Farms, run by Mrs. Oluyemisi Iranloye in Alayide Village, Ado Awaye, Iseyin Local Government of Oyo State which has turn the site to a huge backward integration story.
According to Iranloye who abandoned a lucrative job as  a bio chemist in Lagos some years ago,  Psaltry has  created a supply chain involving up to 5,000 farm families which include more than 2,000 registered and unregistered out grower farm families, marketers, the labourers, the traders, the transporters and retail input suppliers.
She established the 20-ton/day starch factory in 2012 and an additional Production Line of 30 tons/day capacity in 2015 to meet more Customer demands and satisfaction
The company's asset base is about $5million comprising its factory, farm land and equipment and has saved the nation more than $7million in forex in the past two years. The company has provided employment for over 300 people including 200 permanent staff and 100 temporary staff.
Actually in March 2014, BoPInc facilitated initial contacts with Heineken International B.V. As a large buyer of crops and a manufacturer and brewer in Africa, Heineken plays an important role in the economic empowerment of hundreds of thousands of farmers, their families and their communities.
In Nigeria, this target is embraced by its subsidiary, Nigerian Breweries, the largest brewing company in Nigeria that markets well-known brands of beers, malt drinks and minerals.
To this end, Nigerian Breweries Plc, Psaltry International Company Ltd, a Nigerian cassava processing company and, the International Fertilizer Development Centre, IFDC, through its Towards Sustainable Clusters in Agribusiness through Learning in Entrepreneurship project (2SCALE) signed a Partnership Agreement to optimize the cassava value chain in Nigeria and improve agribusiness for Nigerian smallholder farmers.
The Partnership Agreement is a collaboration between the Parties to improve output of smallholder farmers and consequently support economic development as well as promote inclusive growth in Africa.
The partnership was designed to enhance farmer productivity and increase supply of high-quality cassava roots to Psaltry who will, in turn, provide industrial quality cassava starch for Nigerian Breweries to extract maltose syrup for use in the brewing process.
This Partnership Agreement succeeded the Memorandum of Understanding signed by the partners in June 2014 which formed part of the 2SCALE programme, a Dutch-funded initiative aimed at improving rural livelihoods and food security in Africa. The partners agreed to support small-scale farmers in the production of more and better cassava through technical assistance, training and easier access to finance.
This will enable more smallholder farmers to participate in the market for processed cassava byproducts required for large industrial purposes.
The impact of all these has been massive on the nation's economy and the lives of the farmers.
Alayide village has changed its status as the community now boasts of electricity, bore water and a farm house to help migrant farmers. The youth of the community are back at home to be part of the new agric revolution.
Chief Busari Amusa, Baale of Alayide was full of gratitude for the new transformation that has come upon his community. "It is a dream come true. My story has changed. Today, and less than two years of this cassava business, I have a new house, a car and four of my children are in higher institutions of learning. This is unbelievable", the Baale said..
WE NEED YOUR SUPPORT TO PRODUCE EXCELLENT JOURNALISM AT ALL TIMES.
SUPPORT US AT NEWSROOM NIGERIA @ Newsroom Communication Services: 2042789398, First Bank of Nigeria.