By Rotimi Makinde
My point is very clear and I am reiterating again for the umpteenth time that Asiwaju Bola Ahmed Tinubu, remains the best and the right man to succeed President Muhammadu Buhari after bowing out in 2023 based on experience, clout and political networks.
Whilst I understand that Asiwaju Tinubu is not desperate to become President in 2023, it must also be noted that agreements must be honoured and respected in our body politic so that posterity can judge us kindly.
What we need in Nigeria at a time like this across board is someone like Asiwaju Bola Ahmed Tinubu, who knows everybody. Someone who has planted and nurtured people across all the zones. Someone, who believes in making stars to unite Nigeria and make them flourish. And I feel so proud to market him neither will I stop throwing my weight behind him anytime, anyday. Asiwaju has been a phenomenon, a political colossus who has consistently shown this to the admiration of all and sundry.
Meanwhile, it will be uncharitable for anyone to peddle falsehoods, innuendos, misleading insinuations etc on both social and traditional media that Governors and top leaders of the ruling All Progressives Congress are split over the presidential aspiration of our National Leader, Asiwaju Tinubu. This is totally unhealthy, fictitious, childish, treacherous and should be condemned in its entirety.
We are in a very delicate and sensitive political season whereby all genuine and passionate stakeholders need to thread cautiously and I must say also that our party, APC is currently in a make or mar decision ahead 2023 Presidency. However whether our acts make or mar us, we would equally be seen as a product of our own deeds in the scheme of things.
For those who care to know, Asiwaju Bola Tinubu is not just a politician, he is a master tactician, very cerebral, visionary, well rounded and clear minded. He is always ahead of his peers and interestingly God has a way of winning his battle for him no matter how complex they may seem to be in the eye of human.
My deepest joy however is that, evidence appears very empirical that Asiwaju will not only win the APC primary, he will also trounce any other candidates presented by other political parties in the fray, come 2023. That is when the wheat would be separated from the chaff and boys will equally be separated from men.
In addition, luck is when opportunity meets preparation and that's the story of Asiwaju Tinubu, he is better prepared and thankfully things are positively falling in places for him. Asiwaju's strength has undoubtedly positioned South West strategically, especially on how he is making necessary and timely consultations with relevant stakeholders across the 6 geopolitical zones with calculated connections for the 2023 presidential bid.
Let no one begrudge a man who is resolute about what he wants, and who he is, most importantly, feisty about his enviable destiny.  The cake will certainly be taken by a fiercer cat; it will not be handed to a gutless kitten, therefore all political detractors, fifth columnists and hatchet men should be guided and make a detour.
You can demand political justice when it is not given; injustice only persists because you allow it and in this instance Asiwaju is better placed for victory and his adversaries will receive their shocker as events unfold, the 2023 politics isn't for the small fry at all.
With no shred of doubt, I am happy to be counted among those who will be on the right side of history, having stood firm for the victory and success of Asiwaju Bola Ahmed Tinubu inspite of the stormy political weather. I am with Asiwaju flesh and blood, and on his mandate I strongly stand, what about you?
*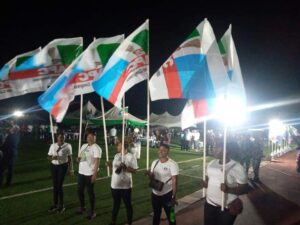 Hon. Rotimi Makinde is a key member of SWAGA Agenda 2023, and represented Ife Federal Constituency at the House of Representatives in the 7th Assembly.*