By Ikeddy Chinedu Isiguzo
Monday night I called Tam Fiofori, possibly Nigeria's most prolific media production person – writer, journalist, photographer, doyen of documentaries on several issues, and one of two Nigerian journalists (the other, Ayo Ositelu, may the Almighty rest him) who reported the inaugural World Athletics Championships in Helsinki, Finland, 39 years ago.
"Tobi Amusan and Ese Brume," he said, "are the two most important Nigerians today. Many do not realise this.
"Imagine what they have done for Nigeria's image! Imagine what they have done for Nigerians. They have made us have hope again and they have posted a strong message for our people.
"After missing the World Cup and the women's team losing in Morocco, sports was dead. Tobi and Ese resurrected our sports with their super performance," said Fiofori, a long jumper in his earlier years.
His photos from Helsinki were picturesque. The Guardian had Ajayi Agbebaku's bronze-winning triple jump leap on the front page.
Now 80, Fiofori expects the message Tobi and Ese have for the youth to be harnessed before it evaporates with the euphoria.
Simple messages – determination in the face of daunting challenges and never giving up. Tobi and Ese grew up in Nigeria and passed through most of what we complain about and the issues are worth the complaints.
The difference is that they did something about their situations. Opportunities still abound in various spheres of life; sports is just one.
The challenge is that standards for accessing these opportunities are global. Only those who wade through millions of talented people and excel would be global champions.
Better environments, mentors, and other resources that produce global champions are nothing without the determination of those who focus on conquering a world populated with stiff competitions.
Doubters are also in abundance. Experts x-rayed Tobi's 12.12 seconds, posted less than two hours to the final, and ruled her out of the medals. Would she recover for the final?
She did more. Her gold medal race was exuberant: 12.06 seconds, another world record but for a 2.5 metres per second wind (2 metres per second is the limit), she defeated the former record holder, the Olympic champion among others who denied her medals at the 2019 World Championships and the 2020 Olympics, moved to 2021 because of COVID-19.
Long jumper Ese was no less remarkable. After her best efforts in 2019 and 2021 produced bronze medals, she progressed to silver, Nigeria's fifth silver medal in 39 years of participating in the World Championships.
From fourth to first for Tobi. Third to second in Ese's case. They made globally celebrated progress. We are so proud of them. They are easily Nigeria's two most important people today.
When in doubt about possibilities, read the inspiring stories of obstacles they overcame in their determined drives to the top.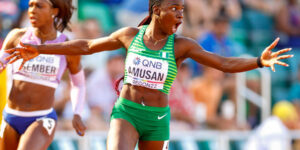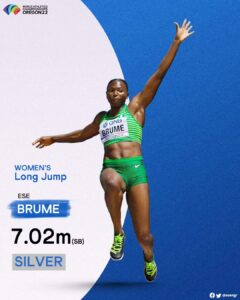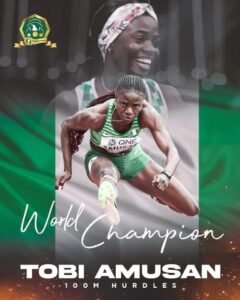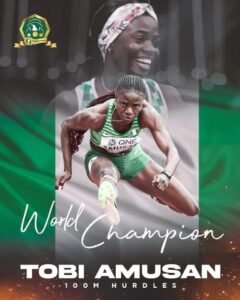 Thanks very much Tobi and Ese for reminding us that "things can be done", "we can do things".
WE NEED YOUR SUPPORT TO PRODUCE EXCELLENT JOURNALISM AT ALL TIMES.
SUPPORT US AT NEWSROOM NIGERIA @ Newsroom Communication Services: 2042789398, First Bank of Nigeria.