By Tim Akano
Yes, the figures of 11 Trillion nairas spent in 8 years by the outgoing government are embarrassingly staggering. However, the Great Chinese leader, Deng Xiaoping's counsel should be considered by the incoming Class Captain.
Deng said ''If you have tough economic and political decisions to make, focus on the former first, when the stomach is full, and mouth is busy, people would not resist your tough political decision''
Removal of fuel subsidy is not just an economic decision but a political and social decision. Once it is removed, the impacts would ricochet in every home, prices of commodities will hit the rooftop, and even 'the other room' will not be spared.
No leader has a full grip on Nigerians as of today to be able to take such a fundamental necessary but painful decision. It will amount to committing class suicide if it is done in June.
The incoming class captain's franchise is fragile, there is wisdom in aiming before shooting. There is strength in number: 9 million versus 220 million Nigerians! Listen to Deng: get people gainfully employed, put food in their stomachs, and restore hope within the first 120 days. Furthermore, embark on a massive sensitisation and awareness roadshow, explaining to Nigerinas why mathematically, economically and socially, fuel subsidy is a deadly virus .
By October, the government can do away with the Frankenstein Monster called fuel subsidy. Sharing N5k each to citizens as a way of spending the $800 million subsidy palliative is, to put it mildly, dumb.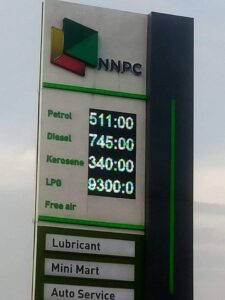 $200 million can create 50,000 quality technopreneurs that will employ 250,000 youths within the first 120 days of the incoming administration. Other innovative socialpreneur ventures that would add huge RoI to the economy exist.
May 29 is more than a day, the event is not the final, it is not a call to ''come and chop'', it is not a call to sit down and be served as a guest, it is a call to serve as a waitress. The question for the incoming Class Captain is: who will you serve between the people who are hurting badly and the state's captors who are overfed? Abraham Lincoln, America's 16th president managed to solve America's Goldbach's Conjecture mathematical equation, will Nigeria's 16th president do likewise?
Nigeria is in a peculiar chaos today like America was in1861. Abraham Lincoln, the wise ONE, though born poor, lost his biological mother when he was a child, a hard worker, with only 18 months of formal education and a self-taught lawyer transformed America.
On Monday, March 4th 1861 when he was sworn in, there was zero clue that he would become the greatest. Abraham Lincoln restructured America's political system by pushing the 13th Amendment which led to the emancipation of slaves and abolition of slavery.
He also was the architect of the possibility of civil and social freedom for African-Americans freedom. Finally, he ended the civil war and preserved the union. Will Nigeria's 16th president put an end to the multidimensional cold wars among the different nationalities in Nigeria? Can he  build a multi-racial society that would give equality and equity to all citizens regardless of ethnicity, language or religion, where there will be abundance?.
A  smart, honest, competent and visionary leader can upgrade Nigeria's economy to $1Trillion GDP ( 2023-2027) and $2 trillion in 8 years using some of the fresh ideas above, By 2031, we should be in a position to launch the BOOK titled: "From 4th World to First World- The Story of Nigeria's Transformation in 3000 Days"!
Great Britain did it in 100 years, China did it in 30 years, UAE did it in 10 years: who says Nigeria;s transformation in 8 years is impossible? There are templates to copy and paste now. More importantly, there is Artificial intelligence today, besides the fact that all the ingredients needed for transformation are available in Nigeria!
Is Nigeria getting a waitress-servant-leader on May 29, i.e. Abraham Lincoln or another rent-seeking, ''baby'' like the past 15 rulers? Leaders who transform their societies by changing the course of history permanently for good like Ben Gurion of Israel and Mohammed bin Rashid Al-Maktoum of UAE become immortal. Whoever can solve Nigeria's Goldbach's Conjecture mathematical equation will equally become Nigeria's first and authentic national hero.
Are you the ONE? History beckons. Take a deep breath in….And out…. in…… out…… in….. out…. It can be.
May the ONE, who rules over Waves and Seas keep HIS blessed hand over the in-coming class captain and grant him the fortitude and mental magnitude to exercise wisdom with a calm mind even when under pressure as he embarks on his maiden voyage on May 29.
Nigerians?
Fair Winds and Following Seas!
Tim Akano is on
timakano1@gmail.com
www.timakano.com