The Ooni of Ife, Arole Oduduwa Olofin Adimula Ooni Adeyeye Enitan Ogunwusi Ojaja II, today Friday, September 16 2022 at Ile-Ife, Osun state, unveiled an iconic retail outlet branded OjajaMore, a viable food-chain retail store dealing in groceries and other consumables.
Explaining the initiative at the commissioning ceremony held at the premises of the retail store located at the KM 10, Ife/Ibadan express way in Ile-Ife today, the Ooni stated that the establishment of OjajaMore is in fulfillment of his agelong aspiration to redesign retail activities that will be gainfully driven by the Nigerian youths with a view to creating an enduring legacy for Africa in the global space.
……
"Today, I am exceptionally fulfilled to unveil the OJAJAMORE, one of the profound, timeless initiatives that I envisioned for the modernization of Ile-Ife, Osun State, and other Nigerian cities. It is a triumph and regeneration of retail economies, a reservoir of seamless opportunities for new agro-commodities markets significantly improving access to B2B value chains, a social sanctuary for groceries and other products, and an iconic global brand name that will leave indelible marks on young people through job creation, resolving commoditization issues, and harnessing the integration of locally built flawless novelty digital transactions.
A rethinking of our approach and values for shopping malls in Nigeria and for Nigerians need to be pioneered and readapted. The vision of OJAJAMORE as an indigenous entity with a modern continental outlook is to play a prominent role in people's lives as a conduit that provides relatable experiences beyond traditional shopping while driving a robust economic culture. It will broaden the boundaries of business growth, increase efficiency, and incorporate value-added elements that will span a remarkable experience and instill a deeper bond in customers.
The OJAJAMORE is part of my multichannel investment strategies, which will naturally serve the Ife Grand Resort and Industrial Park, the OJAJA Arena (a 3,000-seat multi-purpose event center), the OJAJA Hostel (a 2,000-bed hostel facility at Obafemi Awolowo University), and other iconic facilities that I have built in Ile-Ife and the surrounding communities over the last six years. This was a promise that I made at my historic coronation six years ago, and I will stop at nothing to fulfil the truest vision of Ile-Ife as both a symbol of ancient and modern economic powerhouse". Ooni said.
The Natural Head of the Oduduwa race worldwide stated that he intends to use the new retail store initiative as his deliberate way of getting youths gainfully engaged.
"This is a job creation for the Nigerian youths. OjajaMore simply means where people (consumers) can pay less and get more. It is a combination of royalty and retail to create a different shopping perspective starting from Ile-Ife The Source. The business is structured to allow personalized shopping to grow the retail business which is grossly underdeveloped in Nigeria due to reasons which include proliferation of neighborhood stores and unorganized markets among others.
"While in Johannesburg about 15 years ago on a business visit, I saw so many retail stores, I thereafter realized that as big as Nigeria was and still is, there are only five (5) major malls with no single one in my hometown Ile-Ife that is refined, classy and affordable.
"Like we have names of people branded into companies like this in developed countries, I initiated this project to build the confidence of our younger ones in productive business and investment activities. Youths are the real drivers of economic growth.
"We have started from Ile-Ife because charity begins at home, from here we will cover the entire South West and Nigeria with a chain of over 100 stalls within the next 24 months. It will be first of its kind in Nigeria and the continent of Africa.
"Beyond grooming young minds and serious minded youths in retail business, this initiative will offer over 100,000 direct and indirect employment to our youths across the country, thereby contributing in no small means to human development and capacity building. That's my target" The Ooni said.
On what Nigerians stand to benefit from patronizing the new outfit, the MD/CEO. of OjajaMore, Mr. Benedict Orioye explained that high-powered technology will be deployed to ensure that customers are treated with respect and royalty as part of value for their money, beyond what is obtainable in similar outfits nationwide.
Orioye said, "Our focus is to have local content as items making up of at least 70 percent of items to be sold here, this is why we are dueling mostly on the farm market. Everything you can think of in the farm will be sold in OjajaMore with decent packaging in line with global standard operating procedure for food handling.
"Aside from fresh and healthy farm produce, the mall will be filled with other retail items as obtainable in other malls around the world but blended with royalty. Our goods are going to be affordably cheap and environment friendly as we have concluded plans to partner the university communities around us to ease the stress of students and other low income earners in shopping." Orioye said.
In keeping with his unorthodox shift, the Ooni has said OJAJAMORE will be guided by the young people, as they are heroically dedicated to one Nigeria whose greatness and prosperity they are inextricably connected to. As a result, he has intentionally entrusted some of his initiatives and projects to some of Nigeria's brightest young people. It will be recalled that monarch had on the day of his official coronation in December 2015 dedicated his reign and the throne to the youth. This has consistently seen him engage the youths meaningfully in all his projects and programs both businesses and NGOs.
Apart from Orioye Benedict Gbayisemore, a one time local fisherman from Ilaje Ese Odo area of Ondo state who was appointed MD/CEO of the OjajaMore by the Ooni having discovered him as a well educated and super versatile young man with a Bsc Physics from Obafemi Awolowo University and currently studying for his MSc Business Admin at the University of Ibadan, the super dynamic monarch has also given an array of other brilliant and multi-talented Nigerian youths gainful job opportunities with a lot of them performing creditably well in their various engagements.
Makinde Covenant(DJ Smith) from Ile-Ife, a 3 hundred level student of Dramatic Arts at Obafemi Awolowo University is the one in charge of YAKOYO AFRIKANA an African restaurant which occupies the Gallery section of the OjajaMore established to promote the African heritage using the aspect of our diverse local food and cuisines. There are several other Nigerian youths who have benefited from the Ooni's G2G platform which he created 4 years ago to drive his Grass-To-Grace aganda for the youths.
A graduate of Obafemi Awolowo University, Oluwaseun Victor Badejo from Ile-Ife is handling OJAJA PARK, a 25 billion naira model city project in Akure while a 30 year old Kamarudeen Adefajo an indigene of Modakeke-Ife with an HND architecture is the one in charge of OjajaMews, another multibillion housing estate project located at Osogbo in Osun state.
A graduate of Osun State Polytechnic who is fondly called Engineer Fisayo has been made to carry out several successful constructions of the Ooni's projects like the Ife Grand Resort and Industrial Park, the 3000 seaters multi-purpose event center called OJAJA ARENA, a 2000 bedded hostel facility OJAJA HOSTEL at the Obafemi Awolowo University, the OjajaMore all in Ile-Ife.
Former president of National Youth Council of Nigeria (NYCN) Comrade Bello Shagari from Sokoto state is the MD/CEO of Royal African Young Leadership Forum (RAYLF) a platform set up by the Ooni in 2018 for showcasing and celebrating the talented young leaders who are already great but untapped assets for Nigeria. he studied Business Information Systems & Information Technology Middlesex University, London.
Barrister Habeeb Whyte from Abeokuta, a Law graduate of the University of Ilorin is the MD/CEO Olofin Products Ltd.
an Ooni's company Packaging everyday agricultural products for sale locally and exports.
One of the Ooni's Personal Assistants, Tomisin Olawale a graduate of Carleton University, Ottawa, Canada was also recently appointed as Director of Olofin Microfinance Bank, a one-time Ife Community owned bank which has just been succoured by the Ooni for resuscitation. An award winning Inya Sarah Lawal, who coordinates his "Women Owned Micro Businesses" (WOMB).
Others include Olusola Owonikoko, who runs the Royal African Foundation (RAF), Ibidapo Fashina, who runs the Royal African Medical Outreach (RAMO), According to the dynamic king, these young men and women, like millions of others, are a microcosm of his royalty, woven into the fabric of our modernization and industrialization even as history weighs heavily on their shoulders.
While inviting individuals, groups, government and other corporate organizations in Ile-Ife and its environs to join him in the daily patronage of the iconic OjajaMore, the African foremost who doubles as Co-chairman, National Council of Traditional Rulers of Nigeria(NCTRN) monarch admonished government and well meaning Nigerians to always consider the Nigerian youth as the best partners in progress for the economic liberation of the country.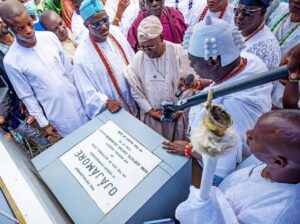 WE NEED YOUR SUPPORT TO PRODUCE EXCELLENT JOURNALISM AT ALL TIMES.
SUPPORT US AT NEWSROOM NIGERIA @ Newsroom Communication Services: 2042789398, First Bank of Nigeria.