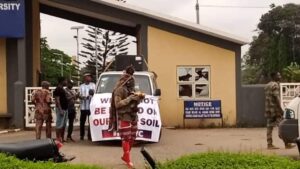 'Re: 2022 selection of Vice Chancellor of the Obafemi Awolowo University, Ile-Ife, Nigeria
…A petition against the prejudicial actions of the Governing Council chairman (Owelle Oscar Udoji) and other selection committee members …a pre-action notice."
There should be an "An investigation and review of the entire appointment process by the appropriate and independent authorities other than the compromised Selection Committee as presently constituted."
On the following Grounds
– That the exercise lacked transparency and was riddled with manipulations. particularly' on the part of the Chairman of the Council with actual acquiesce on the part of the members;
– That the criteria were deliberately manipulated in favour of Professor A. S. Bamire using standards that were neither previously in use nor anticipated by the applicants;
– That some criteria were deliberately scored more than once for some candidates with a view to manipulating the process;
– That I can boldly say that I hold excellent credentials in terms of academic visibility, grant attraction, human capital development i.e. doctoral and other supervisions, national, and community services, and social responsibilities to the university community;
– That, in spite of intimidation during the interview session in which issues and matters extraneous to Vice Chancellor's responsibilities were maliciously put to me. I believe I was able to rise up excellently to the occasion;
– That the Vice Chancellor, Professor Eyitope Ogunbodede had consistently profiled me with prejudicial statements in meetings and all available opportunities, including in Council meetings, as an Ife man whose candidature should be opposed at all costs for reasons best known to him;
– And that the Chairman of the Council and other committee members were biased, manipulative, preferential and malicious against my candidacy.
– Prof Rufus Adedoyin,
Department of Medical Rehabilitation, Faculty of Basic Medical Sciences, College of Health Sciences of OAU
WE NEED YOUR SUPPORT TO PRODUCE EXCELLENT JOURNALISM AT ALL TIMES.
SUPPORT US AT NEWSROOM NIGERIA @ Newsroom Communication Services: 2042789398, First Bank of Nigeria.