Nigeria Minister of industry, Trade and Investment, H.E Otunba Adeniyi Adebayo has called on Nigerians manufactures and business owners to intensify greater efforts to improve Nigeria's competitiveness and ensure economic growth.
The honourable minister who stated this at the just concluded Nigeria Quality Summit 2023 and National Quality order of merit awards, held on March 17, 2023 at Nicon Luxury, Abuja with the theme: "Building Sustainable Quality Culture in Nigeria" said, the low quality and unaccredited standards of made in Nigeria goods are major challenges in Nigeria's industrialisation and export drive.
He disclosed that the widespread use and application of sub-standard products and services in the local markets have been a serious threat to the health and safety of consumers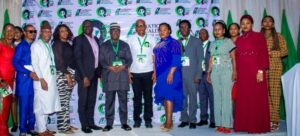 , which he said, it's the concern of the global economy, noting that Nigeria is not an exception.
In this regard, Honourable Adebayo said that the Nigerian government through the federal ministry of industry, trade and investment, (FMITI) remains committed to strengthening and upgrading the National Standardization System, Regulatory Framework, Accreditation and Certification to facilitate local production, trade, increase exports, accelerate economic development and protect the environment, health and safety of consumers and improve quality of imported products through well defined legislation of the quality infrastructure.
He also disclosed that, FMITI, in collaboration with other stakeholders has developed the National Quality Policy, (NQP) with the objective of strengthening the capacity of Nigeria's Trade Support Institutions in particular, to facilitate trade and ensure that Nigeria's exports meet up international standards in the global markets.
Towards achieving this objectives, he said: "the government identified the need to support the development of improved and missing standards and quality control bodies and establish strict international standards for quality control for exportable products and services originating from the Nigerian market. The recent appointment of the Chairman of the National Quality Council, is a milestone towards the effective implementation of the policy."
However, he lauded at the organisers for such a summit and chosen theme saying, " this summit is timely, as it creates awareness on the role and influence of quality management to organisations, nations and individuals while promoting quality of national products and services.
The theme, " Building Sustainable Quality Culture in Nigeria" was well thought out and is also very apt at this moment in our national life. Achieving this involves the government creating the right environment for quality culture and standards as well as sensitising stakeholders to embrace best practices of sustainable quality management."
The Nigeria Quality Summit is a platform aimed at creating awareness of the role and influence the general public on the quality of organisation, nation and individual. It also seeks to promote national product and services, consciousness on quality management discipline thereby creating sustainable environment for business growth and profitability.
While the Nigeria Quality products and services exhibition which was the highlight of the day provides an opportunity for organisation to showcase their quality products and services to international audience.
According to the organisers, the essence of the expo is to celebrate excellence, conformance to customers' needs and deliver quality products and services to consumers.
National president, NACCIMA, Ide John Chinyelu Udeagbala, DG, Ghana Standards Authority, Professor Alex Dodoo, Chairman, South Africa Quality Institute, Arno Bashoff WBHO, Acting DG, NAFDAC, Dr Monica Eimunjeze, Chairman, NESG, Niyi Yusuf, DG MAN, Segun Ajaiyi – Kadir, and DG, SON, Mr. Farouk A. Salim were also in attendance at the summit as quest speakers.