Banks in some parts of Lagos on Tuesday morning shut their doors against desperate customers seeking payment following the Central Bank of Nigeria(CBN) cash swap policy.
In Town planning Lagos, a new generation bank shut its gates as early as 9 am to customers who couldn't carry out transactions too.
At Obanikoro, two new generation banks also locked their gates against customers. Visibly angry customers gathered in front of the banks lamenting the development.
Some of them accused the CBN and powerful government forces of plotting to frustrate the forthcoming general elections.
A mild drama played out in one of the new generation banks on town planning when a man openly cried about inability to access cash. He said he needed to do an urgent transfer for his sick wife's surgery.
Meanwhile, protests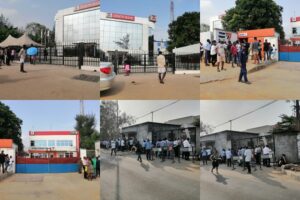 broke out in Abeokuta, Ogun State capital on Tuesday when residents poured into the roads and streets over biting scarcity of cash and the attendant excruciating pains.
Aladesanmi, Fajol and Somorin in Obantoko area of Abeokuta were taken over by the protesters, making bonfires and chanting anti-government songs
The Sapon branch of First Bank was also vandalised as the protesters attempted to set it ablaze.
Ogun Police spokesman, Abimbola Oyeyemi, who confirmed the protest to The Nation, said officers are monitoring the situation to prevent the destruction of property and loss of lives.
Oyeyemi, a Superintendent of Police (SP), said a group of boys is involved, stressing the Command was studying the protesters to know whether they are Okada riders or not.
(The Nation)
WE NEED YOUR SUPPORT TO PRODUCE EXCELLENT JOURNALISM AT ALL TIMES.
SUPPORT US AT NEWSROOM NIGERIA @ Newsroom Communication Services: 2042789398, First Bank of Nigeria.