An Ilorin Magistrate Court, on Friday, ordered the remand of two brothers – Dare Akogun and Abdulrasheed Akogun for allegedly defaming and inciting public against the government of Mallam AbdulRahman AbdulRazaq in Kwara.
Meanwhile, their arraignment was preceded by a drama-like scenerio with the correctional service officers storming the court premises in a commando style and they  handcuffed the defendants and attempted to move them to prison without remand warrant.
The development however met stiff resistance from members of the Association of Kwara Online Media Practitioners (ASKOMP) and senior colleagues in the field of journalism, who were on ground in a peaceful protest saying such process is illegal, uncondtitutional and display of absolute power.
During the court sitting, the state prosecutor, Nasir Yusuf informed the court that the police investigation over the matter is still ongoing and  sought  another date for adjournment.
Speaking on the issue of bail, Yusuf prayed the court to grant the applications seeking the remand of the defendants as contained in the motion exparte attached to the police report. He added that the motion is supported by eleven paragraph affidavit.
Magistrate Bio Salihu who presided over the matter however overruled the defendant's Counsel, Barrister Kehinde Eleja SAN from appearing before him.
Eleja argued that the defendants have the right to a legal representation and he has the choice to appear for them stressing that his appearance is backed by law.
The Magistrate insisted that according to the Kwara State law, he lacked the jurisdiction to hear him on the basis of being a Senior Advocate of Nigeria.
Meanwhile, The magistrate has granted the state prosecutor's application for a remand while the matter is adjourned to 19th of this month.
Earlier, members of the ASKOMP as well as other youth groups who stormed the police headquarters in a peaceful protest against the detention of the defendants, were beaten, teargassed, arrested and subsequently charged to court.
The Kwara State Police Command however insisted that the protesters were merely dispersed "using minimal force" persuasion from senior police officers failed to dis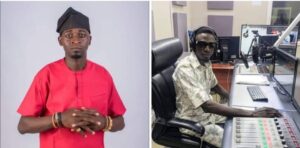 uade the protesters from blocking the main gate to the Police Command and the adjoining roads close to the Command.
The crisis started when the Chief Press Secretary to Kwara State Governor, Rafiu Ajakaye, through a petition letter to the Commissioner of Police accused the defendants of defamation and inciting public against the government.
Ajakaye in his petition accused Abdulrasheed of posting a comment on the popular WhatsApp platform, Kwara Commission, accusing the state government of being very corrupt by facilitating fifteen million naira to prosecute the last election of the Nigerian Union of Journalist (NUJ), Kwara State chapter.
WE NEED YOUR SUPPORT TO PRODUCE EXCELLENT JOURNALISM AT ALL TIMES.
SUPPORT US AT NEWSROOM NIGERIA @ Newsroom Communication Services: 2042789398, First Bank of Nigeria.