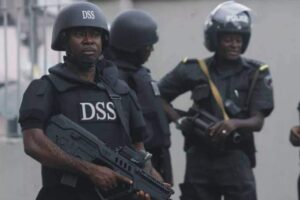 The State Security Service, SSS, has cautioned against unguarded utterance over the arrest of Tukur Mamu, the self-appointed negotiator between families of the abducted train passengers and the terrorists.
Mr Mamu was arrested at Cairo International Airport on his way to Saudi Arabia for Lesser Hajj and deported to Kano, where he was immediately arrested by the SSS.
A Kaduna-based Islamic scholar, Sheikh Ahmad Gumi, has earlier called on the SSS to either release Mr Mamu or charge him to court, saying anybody arrested over allegations of crime should be charged to court within 24 hours.
But the service, in a statement signed by its spokesman, Peter Afunanya on Sunday, cautioned against unguarded utterances over Mr Mamu's arrest.
"The Department of State Services (DSS) has followed, with keen observation, overzealous comments by sections of the public in view of issues relating to the arrest and investigation of Tukur Mamu.
"The Service wishes that it is not distracted with some of the skewed narratives pervading the media space. Instead, it requests to be left alone to concentrate on the ongoing investigations, the outcomes of which have remained mind-boggling.
"Meanwhile, the Service will cease further comments on the subject matter since the court will determine its course. Consequently, the public is hereby enjoined to desist from making unguarded utterances and await the court proceedings," Mr Afunanya added.