The Gubernatorial candidate of the Social Democratic Party (SDP), Hakeem Oladimeji Lawal has charged Kwarans to be wary of politicians whose only message is the depth of their pocket, stressing that they're only here to buy our present and future of our children and not only sustain our woes, but rather to compound it.
Hakeem Lawal made this charge during the Social Democratic Party's tour of Asa local government Area of the State on Wednesday, which had the Kwara Central Senatoria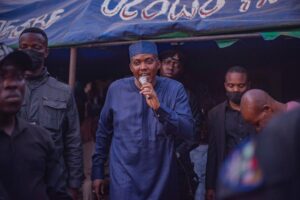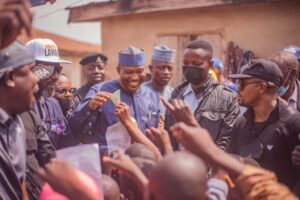 l and Ilorin West/Asa House of Reps candidates, Dr. Ridwanullai Apaokagi and Alh. Abayomi Adisa respectively.
Lawal said "We're now at a time where everybody is laying claim to being a lover of the masses, virtually all politicians are now mekunu something or the other, yet the masses are hungry, they're unhappy and being severely cheated.
"That's nothing but a pointer that all the so-called lovers of mekunu are nothing but liars and deceivers, who only tricks the masses with stipends in exchange for their present and future of their children."
He added that "with everybody mouthing to love the masses, we ought to have drastically reduced the woes and sufferings of the masses, sadly successive governments at all levels have done nothing than increase the woes of the masses.
"We perfectly understand the fact that whoever places the interest of the masses first, will always see God answering all their request."
According to him, "we've always prioritized and aligned with the interest of the masses, that's the cardinal reason why we left our former party, which reneged on our vows with the masses and that's what brought us to this present destination.
"No sincere lover of the masses, will be at peace with the present unending fuel queues, cash shortage, growing insecurity, unemployment, decaying infrastructure, poor healthcare, uncompetitive educational sector among others."
The SDP gubernatorial candidate explained that "as for us, we're not in this race because we're the richest, we're not here because we have monopoly of wisdom, we're here because we believe the people especially the masses deserves a better deal.
"It is unacceptable to us, a situation where Asa LG with its huge and largely untapped potentials lacks access road, domestic water, quality healthcare and educational facilities."
He maintained that "a community without network service, will find it hard competing with it competitors, as the global economy is largely driven my Information technology.
"We'll ensure all necessary amenities are brought closer to you, we won't to stop the tradition of traveling down to ilorin before accessing basic needs and infrastructure.
"We're here to take over the mantle of leadership on behalf of the masses, we'll thus govern with the fear of God, justice, fairness and equity" pledged."
The campaign train had stopovers at Otte-Oja, Eiyenkorin, Buford-Oke, Ballah, Alapa, Budo-Oke among others, where the traditional rulers, Islamic clerics and enthusiastic villages all took turns to separately eulogize the pro-masses government of the late Admiral Mohammed Lawal (father of SDP's Gubernatorial candidate) who governed the State between 1999 – 2003.
According to Baale Otte "Governor Mohammed Lawal loved Otte to a fault, he gave us a special place in his government, his impacts are scattered across this town, so your coming here is nothing but an opportunity for us to repay the tremendous good and Favour your father did us.
"We're rest assured that as a true born son of late Mohammed Lawal, you'll not only takeover the mantle from where your father stop, but you'll improve on it"
Speaking in the same vein, Daudu Ballah who waxed lyrical while emphasizing the importance of politicians showing undiluted love to the less privileged, stressing that whoever shows genuine love to the masses will always receive enviable blessings from the Almighty.
He added that "the records of your late father while governing Kwara State remains unmatched till date, he was a lover of the masses to a fault, he was a champion of the masses cause extraordinaire and that's why almost 20 years after he left office, testimonials of his good deeds are still on the lips of all and sundry, even when he died almost 15 years ago.
"Today, our community Mosque started by your father while in government has remained uncompleted till date. We are expectant of several government assistance, we're hopeful that with you at the helms of affairs, our plight will be sincerely and swiftly attended under your governorship"