A female student of the Shehu Shagari College of Education in‪ Sokoto‬ State, simply identified as Dorcas from Zuru, Kebbi State,  was burnt alive on Thursday over alleged blasphemy.
The student, who was accused of insulting Prophet Muhammad (S.A.W), was beaten to pulp.
In a video of the incident seen by our correspondent, young males were seen hurling stones at her. Some also used sticks and different objects to hit her.
When the victim fell to the ground unconsciously, the attackers gathered tyres around her before she was set ablaze.
A source said a mob had broken into her hostel where she was dragged out. She was alleged to have told her Muslim colleagues during an argument at their campus that Jesus was the greatest and that it was the same Jesus that helped her pass her exam.
The comment that it was Jesus who helped pass her exams allegedly enraged her Muslim colleagues as it was seen as an affront on Almighty Allah.
In the melee that ensured, She was asked to withdraw the statement and apologise, which she refused.
The school security intervened and took her to their security post for safety but they were overpowered by the rampaging students who were baying for her blood, after which she was killed in the process.
"After killing her, her body was burnt on the school premises," a source said.
Reacting to the incident, the school management shut the college indefinitely
Following today's early morning students rampage in the college, the college management has resolved to close down the college indefinitely with immediate effect.
"Consequently, all students are hereby directed to vacate the college campus immediately," the management said in a statement.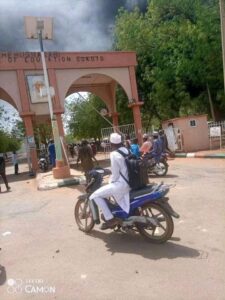 With reports from Daily Trust.