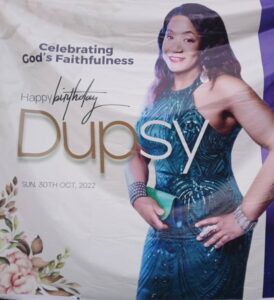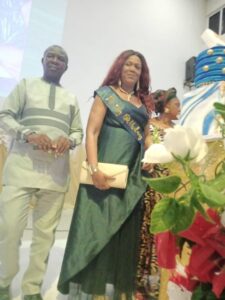 By Shola Akinyele
The popular Mabadeje family in the ancient city of Ikorodu, Lagos state was a cynosure of peoples' eyes as one  of its 'root, Modupe Jaiyesimi returned to the city after many years sojourn in the United Kingdom, UK
Daughter of Late Pa Balogun Idowu Mabaileje, Lady Dupsy as she's fondly called was thrown into an elaborate birthday party. It was a colourful event on Sunday, 30th October.2022 as cream de la cream in Ikorodu gathered at Labi Oasis Hall , venue of the party with lots of encomium on the celebrant.
A legal professional, Modupeola Jaiyesimi, born in London six decades ago is the only female in a family of 11. She was sent to Nigeria at an early age of three months to be raised by her paternal grandmother where she had her Primary Education at Anglican Primary School.
She attended Oriwu College, Ikorodu and later completed her secondary school education at Methodist Girls high School, Yaba Lagos.
Dupsy returned to London, where she secured admission to study law. She also bagged Master's in Law (LLM Law)
Speaking with journalists, Dupsy said "Today we are celebrating God's faithfulness in my life, being a Lawyer, I advocate for many clients, assisting them to the point where the law permits.Through the legal system, I have also impacted positively into the lives of many."
Alhaji Mukaila Afolabi, Chairman of Labi Oasis Limited hailed the celebrant, noting that "Modupe is my cousin and very brilliant, and dedicated to her profession. As a matter of fact; she is a gift to the family and humanity."
In his remarks, one of the celebrant's uncle, Alaba Akeredolu  says that "We used to lived together, I was then living with her grandmother who was my Aunt. Modupe has an amiable and sweet personality, very accommodating, eager to help when need arises. I prayed that the mercy of the Lord should continue to be with her as she continues to prosper in all her endavour."
Funmi Afolabi in her message wishes the celebrants tons of happiness and blessings. "May your special day blesses you with more great things and leave you withm magnificent and everlasting memories."
Mrs Abolanle a cousin to the to the celebrant in her good will message, she gave a brief background of Modupe. She said "Myself and Modupe were more than cousins, a best of friends and confidants".
After Secondary Education, we travelled outside Nigeria for tertiary Education, I proceeded to the United States and Modupe back to England. The distance was not a barrier to our friendship – because we had occasionally planned trips to Nigeria together several times, just to meet and renew our bound ." Abolanle discribed Modupe as a loving, kind hearted, confident, embodiment of both beauty and brain, generous to a fault with her resources as she speaks at the occasion.
She added that 'Today I'm overjoyed to see Modupe, happy and doing well with her family, my earnest prayer for Modupe is to live to celebrate 70, 80 and above100 by God's grace..'
Asked about her experience in abroad l, Modupe Jaiyesimi said she had been enjoying her stays in England for many years.
"If you're an hardworking person, things will work for you over there. Because British government is responsible and dedicated to it's people unlike Nigeria where corruption is parts of our life. In the world of today its only my country that had no plan for the youth; no stable electricity, no work and safety environment for the upcoming generation. Our Leaders had fails us in many ways. In London you pay for your crime committed, no one is above the law, in Nigeria our Leaders are corrupt and not Law abiding"
Modupe is blessed with four lovely children, while speaking she shared her  story on how she was diagnosed with Ovarian Cancer in her late 20's,' God in His infinite Mercy saw her through the Cancer, At a point, she taught all hope was lost , God blessed her with another child, which christened as Remilekun.
"My children are so lovely and their part of my success story; Omolara Ojikutu is my first child, married to her husband Ojikutu's. Omolara with her siblings organized a surprise birthday party for me in London before I departed to Nigeria, for this my country home celebration. Sincerely these came as a pleasant surprise to me. Thanks to you all for putting a birthday bash together, warmest gratitude to the man of the house , Big Jay, Remilekun as 'I'm looking forward to have you all married in my lifetime'. May God guides and prosper you in all your endeavor."
"Unfortunately, l lost Serah to Cold clutches of death, as she passed away at the age of 15. May her soul continued to rest in the bossom of our Lord Jesus Christ, you are fondly remembered"
The beautiful and gorgeous Modupe sees herself soaring higher, relocating to another part of London. She ascribes her source of beauty to God Almighty. Reinstated to live life of simplicity and stress free life style.
Barr. Modupe gave a special thanks to God Almighty, said without whom, she's nobody. Extends her appreciation to Dr Majekodunmi,' says I thank you for been special and for being you'. Generally I thanked everyone who has contributed to my life in one way or the others. I appreciate you all for coming to celebrate with me and pray that joy of celebration will not cease in all our lives. Amen", celebrant prayed.