I arrived New York and immediately began my engagements at #UNGA78. I attended the Time100 Talks breakfast event tagged "closing the digital divide: The importance of digital equity" at the invitation of TIME CEO, Jessica Sibley and Hans Vestberg, Chairman and CEO, Verizon.
When I addressed the room, I spoke as an African private sector leader, and as a philanthropist on the urgency of fostering digital inclusion in Africa.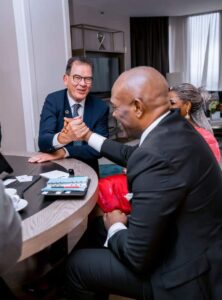 On the one hand, I see first-hand the significance of this geo-connectivity of access, however, on the other hand, I also see the negative impact of the digital divide that exists on the continent, and I will explain how.
I have two 8-year-old boys who are frequently engaged with their iPad devices. One of them is very passionate about football and constantly keeps me informed of everything that goes on in that space. Each time I have these conversations with him, I reflect about those other young African kids who don't have the kind of access to digital connectivity my sons have, and I think about the societal divide that we are creating. I see my sons informed – I see others not so informed – it is a cause for concern.
We live in a world where success is shaped by one's access to information, education, opportunities, etc, on a real time basis, all of which the digital space easily provides. However, when our people are deprived of these opportunities, we stifle their potential and hold back the entire community from progress.
As private sector leaders, leaders of the civil society and the global philanthropic community, we must play our part to drive this long overdue digital inclusion and ensure that no one is left behind. I am happy that Time100 is convening global opinion shapers that will not only advocate, but also execute plans to close the gaping digital divide on the African continent and everywhere else in the world.
I am equally thrilled that the Biden-Kamala administration has recently unveiled the Partnership for Digital Access in Africa initiative (PDAA), to champion digital infrastructure transformation in Africa, which I am proud to lead as co-chair– I look forward to the catalytic outcomes of this wonderful initiative.
Next up were my bilateral meetings – I met with Ahunna Eziakonwa, Assistant Administrator and Regional Director for Africa at UNDP, a long-time partner of the Tony Elumelu Foundation; Eleni Gabre-Madhin, Chief Innovation officer, Regional Bureau for Africa, UNDP, Gerd Müller, Director-General, UN Industrial Development Organisation (UNIDO) on fostering youth empowerment in Africa; I also seized the opportunity to meet with my friend, Fareed Zakaria of CNN for a lunch meeting, always a pleasure catching up.
#TOEWay #TOEAtUNGA #UNGA78
WE NEED YOUR SUPPORT TO PRODUCE EXCELLENT JOURNALISM AT ALL TIMES.
SUPPORT US AT NEWSROOM NIGERIA @ Newsroom Communication Services: 2042789398, First Bank of Nigeria.