A Christian Advocacy group, the Civil Consciousness Global Initiative, CCGI has made a fresh demand for justice in the case of Miss Debora Samuel, a student of Shehu Shagari College of Education, School was murdered by a mob for an alleged blasphemy last week.
Attempt by the security agents to arrest some of the suspects also sparked spontaneous riots in Sokoto, the state capital by pro-Islam youths who went on arson and looting spree.
The CCGI in a press conference addressed by its Chairman, Elder Idowu Shobowale in Ikeja, Lagos on Wednesday, maintained that the practice of Islam in Nigeria is more political than religious and that the "smuggling of the Islamic Sharia laws into our Constitution ab-initio has been the bane of divisions among all loving Nigerians"
Shobowale, a Professor of Mass Communication and a former Commissioner for Education in Lagos, explained that "those who smuggled it in had a hidden intention and those who saw the evil or danger inherent in it, out of fear of losing out kept quiet."
He maintained that "the same attitude goes on today and unless the fraud is arrested boldly and firmly, the recurring stone age jungle justice will continue in our beloved nation Nigeria, adding that insecurity has reached its highest level in our history as a nation, even worse than the events leading to the outbreak of Nigerian civil war of 1967 – 1970.
The group also recalled some of the religion related violence, right from the case of Tafawa Balewa University students on whom the sentence of FATWA (an Islamic death sentence) was pronounced in 2004 by a 31 year old man who they alleged is "still walking around as a free man today!"
Other instances cited included the case of a RCCG woman who was on her Daily Morning Evangelism (Morning Cry) in Abuja that was brutally killed;  the lyching of a teacher in Gombe; and the case of Gideon Akaluka "who was beheaded somewhere in Kano and his head was hoisted on a stick and carried about in jubilation like a flag."
In the latest case of Deborah, the CCGI demanded that the "arrested initiators in her class and their army of collaborators who took the law into their hands to kill Deborah must be brought to book."
It also recommended that "Christian students be given exclusively their faith educational facility where the hope of ignorantly annoying the faith of Muslims would not exist!"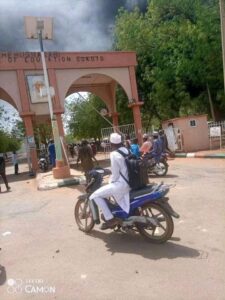 Other members of the group at the press briefing include Reverend Jlius Odofin, Reverend Solomon Adegbolagun, Bishop Funso Awe and Dr. Bolaji Akinyemi.