Most Rev. Daniel Okoh has emerged as the new President of the Christian Association of Nigeria (CAN).
The announcement is contained in a statement yesterday in Abuja by the CAN General Secretary, Mr. Joseph Daramola. Okoh is the general superintendent of Christ Holy Church, also known as Nation Builders (Odozi-Obodo).
 Okoh is General Overseer of the Christ Holy Church International, Vice President of the Christian Association of Nigeria, and President of the Organisation of African Instituted Churches.
CAN is made up of five blocs: Christian Council of Nigeria (CCN), Catholic Secretariat of Nigeria (CSN), Christian Pentecostal Fellowship of Nigeria (CPFN)/Pentecostal Fellowship of Nigeria (PFN), Organisation of African Instituted Churches (OAIC), (TEKAN and ECWA Fellowship).
CAN is scheduled to hold its general assembly on July 27 to usher in the new administration.
The assembly also marks the end of the tenure of Samson Olusupo Ayokunle and members of the national executive under his team.
The outgoing CAN president thanked all Nigerians for their support and prayers.
News Agency of Nigeria reports that CAN's pre-assembly, symposium and NEC meeting will begin today.
The general assembly, sent-forth service and dinner will hold tomorrow, while the handing over ceremony and beginning of the new transition will take place on Friday, July 29.
The Most Rev. Daniel Chukwudumebi Okoh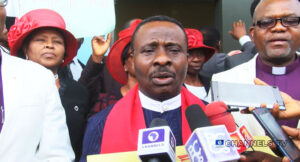 was born on November 12, 1963 in Kano to Christian parents. He is a native of Ndoni in Ogba/Egbema/Ndoni Local Government Area of Rivers State, Nigeria.
He is married to Ngozi and they are blessed with four children. Archbishop Daniel Okoh is a product of the famous Dennis Memorial Grammar School, Onitsha. In 1988, he graduated from the University of Port-Harcourt in Second Class Upper Division in Political Science and Education.
Thereafter, he attended Christ Holy Church Seminary, Onitsha and was awarded a diploma in Theology. Since then he has undertaken many courses and participated in seminars that are relevant to his ministry work both in Nigeria and abroad.
As the General Superintendent of Christ Holy Church International – an African Independent Church – he leads his denomination in ecumenical relations with other denominations in the body of Christ and engages with people of other religions in dialogue for peaceful co-existence and sustainable development. For more than 20 years, Most Rev. Daniel Okoh, has been actively involved in ecumenical relations and interfaith dialogue in and outside Nigeria
ORIGIN OF CAN
On 27th August 1976 the (then) Federal Military Government, under Gen. Obasanjo invited several Church Leaders of diverse denominations to Dodan Barracks, Lagos. the Government's sole purpose was to hold a discussion with the Church Leaders, on the National Pledge and the salutation of the National Flag, which the Government intended to introduce into the Nation's Primary and Secondary Schools.
The Church Leaders did not object to the introduction of the two items provided and on the condition that reading and reciting the National Pledge and saluting the National Flag would be preceded by the usual Morning Devotions, during which the Staff and the Students of each school worship their Creator and offer Praises and Prayers to Him. Immediately after the meeting the Church Leaders spontaneously decided to go to a place, not too far from Dodan Barracks where they could hold another meeting. the Catholic Secretariat opposite the race course bus stop was unanimously chosen.
At the meeting, the Church Leaders arrived at a monumental decision that they should from an organisation which would provide a forum where they could regularly meet together and take joint actions on vital matters, especially on issues which affect the Christian Faith and the welfare of the generality of Nigerians. That was the origin and the beginning of the Christian Association of Nigeria (CAN).
Those Church Leaders who met at Dodan Barracks and later at the Catholic Secretariat on the historic August day, were right in their conviction that the Omnipotent God Himself through the Holy Spirit gave them a special ecumenical assignment. It was this conviction which prompted them to select out of the several names suggested for their coming together the name Christian Association of Nigeria (CAN). They strongly felt that with the help of the Holy Spirit, the Church in Nigeria can and will achieve unprecedented feats, to Christ.
That mustard seed planted on that eventful day has now grown to cover all the nooks and crannies of Nigeria with the Head Office at the National Christian Centre Abuja.
CAN was registered under the perpetual succession Act Cap 98 of Federal Republic of Nigeria (now CAC) in Lagos on 19 December 1986 with Rev. Fr. Anthony Okogie, Pastor J.G. Sakpo, Charles Williams, Rev. Mgr. John Ogbonna and Clifford Mobolaji Smith as the trustees.
The first constitution was signed on 20th April 1977 the founding fathers with:
Catholic (CSN): represented by
* His Eminence Cardinal Ekandem (late) who was the first President of CAN    1976 – 1986
* His Grace Archbishop Francis Arinze
* His Grace Cardinal Anthony Okogie – second President 1988 – 1995
* Rt. Rev. John A. Ogbonna
Christian Council of Nigeria (CCN): represented by:
* Rt. Rev. Festus O. Segun
* Rt. Rev. Rogers O. Uwadi
* Rev. Dr. Joseph A. Adegbite – first Gen. Secretary CAN 1976 – 1988
* Mr. Charles O. William – Second Gen. Sec. CAN 1988 – 2002
Others were represented by
* Pastor I. C. Sakpo (Apostolic Church)
* Rev. E.A Atilade (Gospel Baptist Church)
The 3rd president was Prelate S. Mbang – 1994 – 2003
The 4th President was Primate J.P Akinola – 2003 – 2007
WE NEED YOUR SUPPORT TO PRODUCE EXCELLENT JOURNALISM AT ALL TIMES.
SUPPORT US AT NEWSROOM NIGERIA @ Newsroom Communication Services: 2042789398, First Bank of Nigeria.