The Operatives of the Federal Operations Unit, Zone "A" of the Nigeria Customs Service have seized eighty one thousand, four hundred and twenty five (81,425) litres of premium motor spirit with a Duty Paid Value of thirteen million, seven hundred and sixty thousand, five hundred and twenty five naira (N13,760,825).
According to the Acting Comptroller of the Unit, Hussein Ejibunu, about sixty (60) drums containing PMS, cleverly concealed in sacks and kegs about to be moved out of Nigeria, were evacuated by his operatives in some creeks at Gbaji, Badagry, Ayegun and Seme-Krake borderline.
"When my men got there at exactly 1330hrs, they were shot at with dane guns. And you know that there is a difference between dane guns, pump action guns and automatic rifles. They fired their dane guns a few times and ran away, and since it was their terrain, they knew all the nooks and crannies to use for escape. But we took possession because I moved in with 18 Hilux vehicles loaded with officers who were armed to the teeth, because I was ready and knew what could come up. I have not slept; we went there this morning to see what we apprehended, and it was massive."
Speaking on the implication of the massive petroleum seizure, Hussein Ejibunu said "The implications on the economy are multifaceted, in the sense that firstly, our country subsidized petroleum products for us for our use, yet some recalcitrant people who believe that is the way they can always survive still believe it is to shortchange the nation as well. And it is criminality because it is our collective patrimony, yet some people now believe that they can smuggle it to make a gain, secondly, there will be a shortage, because what is expected to be consumed by Nigerians is being taken out."
He disclosed that his Unit will leave no stone unturned in combating the illicit trade in the South West Zones, "My CGC has zero tolerance for criminality. He is one Nigerian that doesn't take "no" for an answer, and for the fact that he has given us an enabling environment with the wherewithal to work – I just mentioned it a while ago that I received 21 vehicles; if he hadn't given me those vehicles to work with, how would I have been able to commandeer 18 Hiluxes to that place last night?
So, now that we have seen and we know that they smuggle, we're now seeing the traces and new trends, and we will match their force for force. For anyone to think that the NCS is docile and doesn't know what we're doing, they are wrong; we're up to the task, and we will fulfil our responsibilities to the letter."
He, however, attributed the rise in smuggling of PMS to the volatility of the border, "The border was not closed because Nigeria wished to close it, but because of the criminality that has pervaded our Nation." He reiterated.
While advising host communities to be very vigilant due to the high danger of the PMS and not allow their routes to be used as passages for criminal activities, he advised smugglers to have a change of mind and be involved in legitimate trade that will move the Nation forward.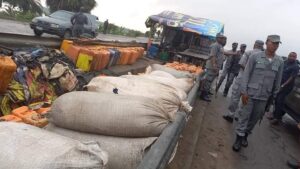 WE NEED YOUR SUPPORT TO PRODUCE EXCELLENT JOURNALISM AT ALL TIMES.
SUPPORT US AT NEWSROOM NIGERIA @ Newsroom Communication Services: 2042789398, First Bank of Nigeria.