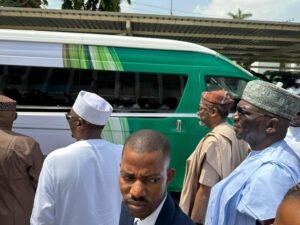 Today, the Bola Ahmed Tinubu administration marked a significant milestone with the handover of converted buses to the State House, symbolizing Nigeria's unwavering commitment to a cleaner, more sustainable, and economically sound future. In a momentous event, these Compressed Natural Gas (CNG) buses were delivered with a clear message: Nigeria is at the forefront of a global energy revolution.
The conversion of these buses to CNG is not just a technical achievement but a declaration of intent to embrace cleaner and more economical energy solutions. This initiative reflects the administration's resolve to harmonize fiscal prudence and environmental stewardship.
Nigeria is currently home to seven conversion centers, and the government is actively working to establish more of them across the country. This facilitates vehicle conversion and generates employment opportunities, showing the administration's commitment to environmental sustainability and economic growth.
In the next few weeks, starting from tomorrow in Lagos, the PCNGI will establish the roll out of more conversion centers to enable 55,000 conversions in the next 6 months under the palliative program. In addition to this, over 11,500 CNG fueled vehicles will be rolled out by partnership with private sector, cooperative, state and union operated mass transit operators in the same period.
One remarkable development announced during the handover ceremony is the waiver of Value Added Tax (VAT) on CNG purchases. This policy change demonstrates the government's dedication to making cleaner energy more accessible and affordable for all Nigerian citizens. This is to encourage more investments to make CNG more widely available from wellhead to nozzle.
In his address, the Chairman of the Presidential CNG Initiative , Mr Zacch Adedeji (Ag. Executive Chairman, FIRS) represented by Mr. Farouk of NMPDRA expressed his gratitude to all those who contributed to this significant achievement, highlighting the dedication, vision, and unwavering support that brought the nation to this juncture.
He remarked that "the CNG buses passed on to the distinguished representatives of the State House represent a new beginning and a journey toward a future where Nigeria powers tomorrow, today."
The handover ceremony, attended by distinguished guests, marks the dawn of an extraordinary journey. As the Chairman noted, challenges will undoubtedly arise, but the determination, innovation, and collaboration of the Nigerian people will light the path ahead, contributing to a cleaner, greener, and more prosperous tomorrow.
This event is more than a vehicle handover; it symbolises Nigeria's commitment to an Energy Revolution: Powering Tomorrow, Today.
Presidential CNG Initiative
WE NEED YOUR SUPPORT TO PRODUCE EXCELLENT JOURNALISM AT ALL TIMES.
SUPPORT US AT NEWSROOM NIGERIA @ Newsroom Communication Services: 2042789398, First Bank of Nigeria.