Former Chairman of First Bank of Nigeria, Mrs Ibukun Awosika, on Monday charged women entrepreneurs to reinvent their businesses to remain relevant in the present changing world.
Awosika gave the advice Monday while delivering a keynote address at the 2023 Women High Achievers Trybe, WHATrybe conference held at Oriental Hotel, Lagos.
The Boardroom maven noted that innovation is imperative as it has become the major strategic tool for business survival due to changes in the world.
"Your business must be able to reinvent itself per season in today's world. You must have the courage to discontinue something if it is not working," she said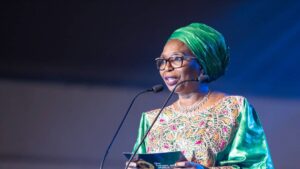 .
According to her, there are three key stages in entrepreneurship and the ability of an entrepreneur to effectively deploy each will determine how successful they will become in the venture. She listed the three stages as: the ideation process, planning stage and the execution stage.
Awosika, who is also the Chairman of The Chair Centre Group, then urged female entrepreneurs to be open-minded and to find the right human capital for every stage of their business.
"You must determine that you are aware of what you are called to. This means asking if your interest, passion, skills, talent and resources match the market you want to function in. In theory, every business looks right, but in execution and real life, there might be few surprises you need to contend with. This will help you to make amends at a low cost of losses in any way if you were wrong," she said.
In her welcome address, the convener of WHATrybe, Mrs Kiki Okewale, said the conference was organised to build a community of women who would support, promote and patronise one another in life.
Okewale, also a life coach and entrepreneur, said she disagreed with the notion that women do not support each other in life or business.
"From childhood, I have seen the strength of sisterhood and I choose to only see the positives. I have encountered friends who gave me shelter in my times of need, cousins who opened their doors and countless other women who have lifted me up when life dealt its blows," she said.
According to her, WHATrybe is not another random community but the brain behind it is for women to make money together, share opportunities, travel the world together and be a great example to every woman out there.
"I welcome you to be part of this beautiful community. We need your uniqueness. Let us move forward with this purpose in our hearts, knowing that together, there is no limit to what we can achieve," she said.
In her contribution, Mrs Toun Sonaiya, ace broadcaster and Chief Executive Officer, WFM 91.7FM, also urged women to collaborate in their various capacities to improve their lives, career, business and families.
Ms Folake Kehinde, the Chief Executive Officer, Folake Aya Akanni Essentials, charged women entrepreneurs to maximise the various social media platforms to market their brands, services and sell their products.
On her part, Mrs Margaret Moore, President, Professional Insurance Ladies Association, enjoined female entrepreneurs to allocate a certain amount of their resources to take care of their life, vehicle, burglary and fire, among others.
Moore said this was important for them to transfer their risk to a third party through the premium paid and indemnity that would be paid in case of any loss.
The WHATrybe Conference attracted over 1,000 participants.
WE NEED YOUR SUPPORT TO PRODUCE EXCELLENT JOURNALISM AT ALL TIMES.
SUPPORT US AT NEWSROOM NIGERIA @ Newsroom Communication Services: 2042789398, First Bank of Nigeria.