Aero Contractors has announced the temporary suspension of flights from Wednesday, July 20, 2022.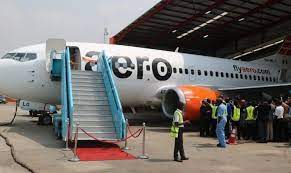 The airline, in a statement received today, said the temporary suspension would not in any way affect the maintenance activities of the Approved Maintenance Organisation (AMO), otherwise known as AeroMRO, or the Approved Training Organisation (ATO), also known as Aero Training School; and its helicopter and charter services operations.
It explained that the shutdown was due to the fact that most of its aeroplanes were undergoing maintenance.
The statement read, "Due to the impact of the challenging operating environment on our daily operations, the management of Aero Contractors Company of Nig. Ltd. wishes to announce the temporary suspension of its scheduled passenger services operations with effect from Wednesday, July 20, 2022.
"This decision was carefully considered and taken due to the fact that most of our aircrafts are currently undergoing maintenance, resulting in our inability to offer a seamless and efficient service to our esteemed customers.
"We are working to bring these aircrafts back to service in the next few weeks, so we can continue to offer our passengers the safe, efficient, and reliable services that Aero Contractors is known for, which is the hallmark of Aero Contractors Company of Nig. Ltd."
The airline lamented the harsh climate for air operators, who have been forced to contend with high maintenance costs, high cost of aviation fuel, inflation and forex scarcity, among other issues.
It promised to return swiftly to operations, hoping to liase with other partner airlines to reduce the impact on loyal customers.