The Edo State Governor, Mr. Godwin Obaseki, on Wednesday, received the former Governor of Kano State and presidential candidate of the New Nigeria Peoples Party (NNPP), Rabiu Kwankwaso, in Benin City, the State capital.
Kwankwaso is in the state to seek the support of the electorate ahead of the 2023 presidential election.
Addressing journalists in Benin City, the former Governor warns Nigerians against politics of ethnicity and religion.
He said, "Some people don't even understand the realities on the ground today. Every Nigerian is looking for a way out. Nobody is waiting for a neighbour or any leader to say this is the way.
"Any party or candidate that comes out in the face of ethnicity or with the issue of religion, that party or candidate at the national level has failed in the election even before it starts. For those of us who have been in the game for a long time, just prove yourself over the years, remove every fear."
Reiterating the need to vote only credible and competent leaders, he noted, "There are people who are living in the air and don't know the level of poverty, anger and hunger in the country. Some of the candidates are going round saying they will continue the good work of this government. They think if they are rich, everybody is happy that they are rich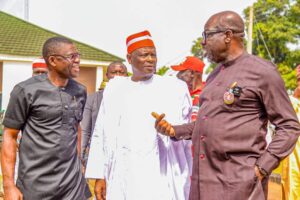 .
"What Nigerians are saying is who can save this country in terms of insecurity, economy and dilapidated infrastructure that we see. Nigerians are not waiting for any person but will take decisions on their own."