Lagos State Governor, His Excellency, Babajide Sanwo-olu has revealed why engineering construction leader, Julius Berger Nigeria Plc is awarded technically challenging contractual projects in the country as he commissioned the reconstructed Adeniji Adele Road in the ever busy Lagos Island area.
Underscoring the rising desire of residents of the state for the engineering construction company, the governor gave a description of the difficult terrain and busy nature of the area and added that such knotty construction tasks are better handled by a versatile, capable and experienced engineering construction company like Julius Berger Nigeria Pl whose records of works in the Lagos Island terrain historically, operationally dates back to the 1960s.
Earlier, the Governor said that the people needed a strategic road that transverse the area which is a key artery. He added that Adeniji Adele road is a central part of the northern part of the Local Government Area from where the extensive regeneration of Lagos Island has to start. "Lagos Island is one of the oldest settlements in Lagos. Two years ago we did the ground breaking of this project.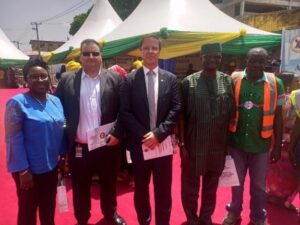 ", Sanwo-olu said.
In his speech, the Managing Director of Julius Berger Nigeria Plc declared that it is worthy of note that the commissioning is being done in the twilight of the first term of Governor Sanwo-olu in the state even as he acknowledged the strong partnership between the government and Julius Berger Nigeria
Adeniji Adele road is a major strategic bypass that traverses the administrative boundary of Lagos Island Local Government and Lagos Island East Local Council Development Area.
Before the reconstruction, Adeniji Adele Road was a two-lane single carriageway of about 2,234km; while Tapa street was about 600m. Presently, the 2.47km road with a carriage width of 12km has been reconstructed and upgraded to a semi rigid pavement with reinforced concrete drains, culverts, median barriers, tranverse and longitudinal service ducts and the installation of Low-Emission Diode, LED-powered street lighting.
Other officials of Lagos State government at the event included, the Special Adviser, works and infrastructure, Engr Aramide Adeyoye, Permanent Secretary, Office of Infrastructure, Engr Daramola Olufemi Olubunmi and Director of Projects, Engr Tokunbo Ajanaku among others. The Julius Berger Nigeria delegation included, Engr Thomas Balzuweit, Engr Nath Ikem, Engr Adegbenga Osunlana , Engr Bolaji Johnson and Engr Rasheedat Anifowoshe.