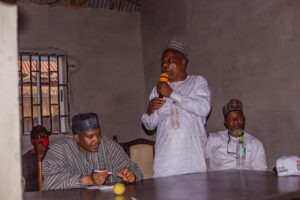 The gubernatorial candidate of the Social Democratic Party (SDP) in Kwara State, Alhaji Hakeem Oladimeji Lawal on Wednesday promised that the major plank of his empowerment programme will be anchored on patronizing local businesses domiciled in the State.
Speaking at the Secretariat of the Kwara State Motor Dealers Association, KMDA as part of the on-going state-wide consultative meeting with groups and stakeholders in Ilorin on Wednesday, Alhaji Lawal stated that the Bus empowerment programme, especially, will be done by patronising and involving Motor Dealers in the State.
He added that patronage of major auto dealers outside Kwara state will be based on their willingness to open their sale outlets and auto care centers in the State.
In his remarks, Alhaji Abdulhamid Dare Abdul, KMDA President lamented the unfair trade policy by the current administration in the State of patronising auto dealers from Lagos and other places, instead of auto dealers based in Kwara.
Recalling the laudable support of the former governor of the state, late Admiral Mohammed Alabi Lawal to the Kwara based motor dealers, Alhaji Abdulhamid said: "When former governor Lawal wanted to embark on empowerment for transport workers, he invited some of us who are motor dealers from Kwara state and gave us money to procure the vehicles for them.
"I can remember vividly, I was the one who collected the money from the former governor. That singular act of the then governor benefited us immensely and it was the catalyst to the creation of Emirate Motor Park that still serves Kwarans till date."
While promising the unflinching support of the association to the realisation of the SDP governorship candidate's ambition, the KMDA President urged Alhaji Lawal to patronize Kwara based motor dealers anytime his regime will be doing such bus empowerment scheme, stressing that doing so also means that the dealers in the state are also been empowered by his government.
Responding, the SDP gubernatorial hopeful reiterated his commitment to Kwara state industrial transformation, promising to patronize local investors if elected into office. He also assured his enthusiastic audience that the old good days of his father will return with an improved local contents slant.