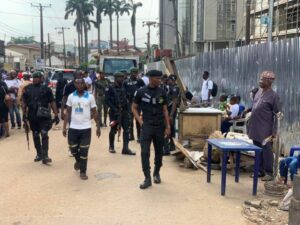 The Lagos State Taskforce has carried out a clean up exercise of indiscriminate roadside trading and illegal visa racketeering being perpetrated by unscrupulous individuals along Otunba Yomi Oshikoya Drive in Ikeja and its environs.
The exercise which lasted about three hours was spear headed by the Chairman of the Agency, CSP Shola Jejeloye who disclosed that the operation was carried out in order to restore sanity and orderliness in that axis which has been known for harbouring some criminal elements who are known for cutting corners and sharp practices.
"We have received series of complaints from residents and operators of the visa service organization situated here about how some unsuspecting applicants have fallen victim to some touts who parade themselves as visa processing agents, but once money exchanges hands the agents disappear into thin air".
Consequently, we have arrested 13 suspects who were caught in the act of trying to swindle some applicants, also illegal food vendors have taken a portion of the Road for their businesses and this resulted in serious traffic jam which sometimes spill on to Mobolaji Bank Anthony Expressway thus inconveniencing Lagosians. We havet come to put a stop to it" Jejeloye stated.
A resident in the area who goes by name Sesan Makunjuola disclosed that he and some other residents spend up to 30 minutes to one hour in traffic before being able to drive in and out of the street.
"The clearing up of the street by The Lagos State Government is a welcomed development because we have been going through a lot in the hands of these road side vendors who have occupied half of the road and left us to one lane to navigate. We have made series of appeals to the Local Council to help ease our pains, so we are glad this is finally happening"
Another resident who declined giving his name urged the Lagos State Taskforce to make the exercise a continuous one as this wasn't the first time the illegal food vendors have been evicted from the street. He disclosed the state and manner in which the operators degrade the environment by disposing off their waste and garbage into the gutters indiscriminately thereby messing up the entire area.
One of the victims of the Visa racketeering, Chikanma Sonia, who was also present at the scene lamented the rate at which these illegal agents rip unsuspecting applicants off of their hard earned money all in the name of securing visas for them.
"I met a lady here about two weeks ago when I came to submit my application papers and she appeared to be responsible and offered to help me with the entire processing for a fee. I paid her about 45,000 Naira and gave her some of my documents to help me photocopy. That was the last I heard of her." She lamented.
CSP Shola Jejeloye assured the residents of the area that the Agency would do everything within its powers to ensure that the operation carried out today would be thorough and continous.
"Be rest assured that this will not be business as usual. This exercise will be continous a one because we have gotten reports that these vendors return to the same spot after a few days. Monitoring teams will patrol the axis at intervals and anyone found operating illegally will not only have his goods seized but will be arrested and charged to court"
Jejeloye sounded a note of warning to touts and agents of doom who also operate illegally around the Visa processing office. He warned them to steer clear of the axis as anyone of them caught will be made to face the full wrath of the law.
"Applicants are also adviced to seek the services of bonafide staff of the Agency to avoid being swindled of their hard earned money".
The 13 suspected visa racketeering agents arrested will be charged to court immediately.
WE NEED YOUR SUPPORT TO PRODUCE EXCELLENT JOURNALISM AT ALL TIMES.
SUPPORT US AT NEWSROOM NIGERIA @ Newsroom Communication Services: 2042789398, First Bank of Nigeria.