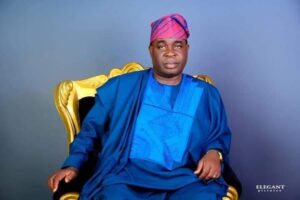 Akogun Iyiola Oyedepo is a grassroots politician and a political leader in Kwara state. He was one of the pillars of the Otoge movement that worked for the emergence of incumbent governor of the state, Mallam AbdulRaman AbdulRazaq in 2019. Today, Akogun is a chieftain of Social Democratic Party, SDP, and in this interview with journalists in Ajase-Ipo, he explains how the crisis in the APC led to the birth of the SDP and its impact on the 2023 election in Kwara.
You are part of the people that built the APC, what exactly went wrong in less than four years?
The man we voted in as the governor of Kwara state who incidentally supposed to be the leader of the party mismanaged the party and he decided not to run an inclusive administration. That is why many prominent members of the APC are now in SDP in Kwara state.
The agenda we had for the people of Kwara state when the present government was coming on board is different from the agenda Governor Abdulraman Abdulrazaq is running and we cannot be part of such misgovernment that is going on today. So, the best way is to start a new cause to free the people of Kwara state from poverty and all other indices of bad governance associated with the APC government in the state.
How do you think a young party like the SDP can unseat an incumbent government?
SDP is not young. It is only young in name. Though, the name is well recognized in Nigeria political circle because this same SDP was used to run some state governments including Kwara in 1992 and in 1993.
Secondly, a party is not judged for being young or old by its years of existence, Political party is best analyzed based on the caliber of people in it. I have been in politics for 33 years and I am a member of SDP. There are lots of people I have met in my political sojourn and many of them are still with me till date.
So, it's just a mere change of name and not changes of political stalwarts that can make a difference in Kwara state. Therefore, it's not about old or new party but the quality of the people in the party. We in Kwara SDP as at today parades men of quality integrity and character than the so called old political party
Recently in Ekiti and Isin Local Governments, you said that you are the one that introduced Abdulrazaq to them and that now you are bringing Hakeem Lawal. What was the reaction of people about your new stand?
When we brought Abdulrazaq in 2019, I told our people and I even announced it on radio that if Abdulrazaq didn't perform that I will come back to tell them to stop backing him and I have fulfilled that. I have returned to my people to tell them that Abdulrazaq is not a good man and it is dangerous to vote for him again in 2023.
My belief about life is that you must continue to search for the fulfillment of your dream until you get it done. The fact that you voted Abdulrazaq and he failed does not mean that you cannot continue to search for the alternative that will be better and acceptable to the people of our dear state.
But how prepared is the SDP for this election?
We are fully prepared. We have a scientific way of bonding with the people. We don't believe in the jamboree of rallies. We approach the artisans, traders, transport unions, religious bodies, community associations, civil servants, pensioners and others where we create a bond between us and the people.
We will roll out plans for mass rally towards the end of the campaign. We are very prepared and as you can see, we are distributing leaflets, telling people our plans and programs to better the state and so far, people are happy with the caliber of our gubernatorial candidate.
Do you have any regret for telling Kwarans to vote for APC or Abdulrazaq Abdulraman in 2019?
I cannot say I regret it because it is natural for human being to disappoint. Moreover, I am not part of his government. I would have regretted it if I was part of his government and we fail like this. As much as possible today, Governor Abdulrazaq is carrying his own cross by himself. So why should I regret? If I have been part of the people that give him advice, operate or run the government with him and we fail woefully like this, I will definitely regret supporting him but since I was not part of them I have not lost my voice with the people of Kwara state.
Why is it that all the people that worked for the emergence of the present government in the state are no more with the governor?
That is why I say he has not been running an inclusive government. If you count the number of the people that worked with me to install Abdulrazaq, honestly you will realize the governor has lost so many people that worked for him before. People like Makanjuola Ajadi, Cook Olododo, BOB Bolarinwa, Oyebiyi, Baba Manko, LAK Jimoh, Prof. Oba, myself and others. My friend, Dr. Bolaji Afolabi worked with him and today, we are no more with him.
The governor is nothing but a fish without water. He has no credible followers or supporters. In fact, some of the people that are still with him are doing so for what they are getting and many of them will soon desert him shortly before the election. Many of them are just pretending to be with him. Governor Abdulrazaq is like a naked person within the market space and because he is insane, he doesn't know he is naked.
But he claims that he refused to share the state's resources with some of you and that is why you are quarrelling with him…. (Cuts in)
That's a very stupid claim. If you examine the likes of the people I mentioned earlier, without denying what he said, are those people the type that are persuaded by money? If I had wanted such money, I would have supported former Governor Abdulfatai Ahmed. Saraki as number three man in this country wanted me to work with him but I rejected his over.
If all I wanted was money will it not better to follow Saraki then? It is because Abdulrazaq is a fraud and the only thing that can work for him is money, not intellect, not ideas, not principle. And that is why he believes everybody can be bought with money. I have never asked him to give me money. Even, if he claims he gave me money during my daughter's wedding, I didn't ask him to do so. Am I the first person to be giving such money for social engagement? I never ask him a dime.
If he patronizes me when I wrote my book, what offence do I commit? Many other people patronized me with millions of naira. They just appreciate my intellect. I therefore want to say Abdulrazaq is a stupid person.
-Ends-
Oluwasegun Abifarin
Director of Media and Strategic Communication
SDP/Hakeem Lawal Campaign Council
0805-
WE NEED YOUR SUPPORT TO PRODUCE EXCELLENT JOURNALISM AT ALL TIMES.
SUPPORT US AT NEWSROOM NIGERIA @ Newsroom Communication Services: 2042789398, First Bank of Nigeria.