Widespread reports that the Indigenous Peoples of Biafra, IPOB plans to attack Lagos coupled with the statement by the Champion Newspapers Publisher, Chief Emmanuel Iwuanyannwu that Yoruba are 'rascals' represent calls for genocide against a peace loving Yoruba people, the All Yoruba Democratic Movements, (AYDM) has said.
The group said the IPOB hate project has been extended abroad where Yoruba professionals like Dr Adeniran Ariyo, a world renown cardiologist has been singled out for attack by IPOB members at their Igbo sponsors.
The AYDM called on the Lagos State Government and all South West Governments to set up an extensive Intelligence Corp to fish out IPOB terrorists, their collaborators including drug barons and manufactures of fake drugs who provide illicit funds for the terrorist group.
IPOB is a Nazist organisation, the Yoruba have the historical role to denazify her territories from Lagos to Jebba, to Akoko Edo and to Itsekiri territories in Delta State
'The Yoruba are clearly not the aggressors. IPOB, Chief Iwuanyanwu and their supporters are the aggressors. We promise them that from Yoruba people there would be proportional response to any attacks on Yorubaland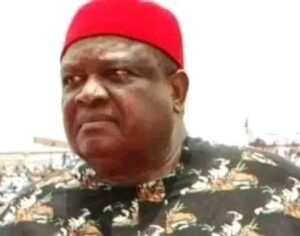 or any Yoruba individual since this seems to be the new project of IPOB, Iwuanyanwu and their collaborators'
In a statement on Sunday signed by its Secretary General, Popoola Ajayi, the AYDM, a coalition of 121 community based groups in Yorubaland including Kogi, Edo and Itsekiti speaking area of Delta State said Chief Iwuanyanwu has given intellectual and political content to the plot of IPOB to attack Yoruba people. This may be similar to the position of Ohanaeze Ndigbo, the Igbo apex group since Iwuanyanwu is a member of that organisation.
The group said Yoruba people will not be provoked into attacking Igbo people urging Igbo leaders to caution IPOB and Iwuanyanwu excesses. 'We urge Igbo in Yorubaland to go about their businesses. If Lagos or any part of Yorubaland is eventually attacked by IPOB, the Igbo Nation should know who to hold responsible for the consequences.
The AYDM said during the ENDSARs protests, Nnamdi Kanu, IPOB leader specifically asked IPOB to attack Yoruba barracks and even kill Yoruba State governors adding that the statement of Iwuanyanwu and IPOB is in furtherance of Nazism being extended to Yorubaland.
AYDM said 'We draw the attention of the local and International community to the genocide plat by IPOB and its supporters including Iwuanyanwu.
While we recognise that there are moderate Igbo who do not share the genocidal plot of IPOB, we are mindful of the fact that IPOB is a dominant organisation in the South East which rules the area with fear and bullying but lacking wisdom nor knowledge. IPOB is armed and has been involved in mindless killings of innocent people in the South East. It makes sense to be alert when such an irresponsible and callous organisation makes such a threat.
AYDM said the positions of Iwuanyanwu and IPOB are the same and have shown clearly that Yoruba people who innocently drum support for alliance with the South East are doing so in vain.
'The Yoruba leadership have always bent backwards to work with the South East but at each point, we have ended up regretting, the latest being the support given to Afenifere to Mr Peter Obi who up till now has not even spoken to thank the group nor show solidarily to Lagos people who voted for his party, the Labour Party.
In his parochial mindset, he would attribute his victory in Lagos to his people, little wonder he visited only Ladipo spareparts market after the Presidential election.
'You cannot behead yourself to satisfy the thirst of a people whose primordial aim is to live and witness your peril', the group said
AYDM said 'There is no difference between Iwuanyanwu and IPOB. Both are expressing extremist views capable of fuelling genocide against the Yoruba people on their fatherland. We are aware that some Yoruba people are already being killed by IPOB in the South East. One of them was an Immigration officer who was shot dead by IPOB in Anambra State two weeks ago on account of his ethnic origin' the statement signed by AYDM Secretary General Ajayi said.
AYDM said Dr Adeniran Ariyo on the other hand has suffered ceaseless persecution, hate speeches which is only an eye blink away from physical attacks on him. His only offense it to profess his Yoruba ness and his refusal to support the Nazist political agenda of his colleagues who are bent on throwing Nigeria into turmoil, having lost the last Presidential election.
AYDM warn those attacking Dr Ariyo to desist or face the consequences. 'Dr Adeniran Ariyo is a world class cardiologist. He was recently declared as the Yoruba Man of the Year 2021. Since then, he has been singled out for attacks and blackmail. We warn those responsible to beware of adequate responses from the Yoruba people all over the world.
AYDM said it was not surprised about Iwuanyanwu's utterances adding that the warped dream of a section of the Igbo elite is to turn Yoruba land into ashes, forgetting that what God has created, no human idol can demolish or destroy it.
IPOB and Iwuanyanwu are heads of heathen. We represent the light and definitely light will subdue and extinguish darkness, the group said.
AYDM said 'Having been listed as the 10th deadliest terrorist group in the world, the Yoruba should not take IPOB threat slightly. The group is irrational, rash and savage. It derives its strength from primitive thinking and a passion for human blood. This runs contrary to the Yoruba values.
We have no objection to IPOB operating in the South East, but this stone age activities of a terrorist organisation will not be tolerated in Yorubaland. Our response will be scientific and done in line with the international principles of self defence as entrenched in the United Nations Charter of Self Determination.'