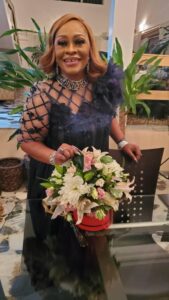 Her efforts to empower the less privileged and support the effort of government in every area of endeavour have been acclaimed to be one of the most outstanding among the lots who follow the same passion as hers. Regardless of religion, tribe, or ethnicity, corporate lawyer and philanthropist, Dr Siju Iluyomade has continued to give her all to better the lives of many, using her Arise Women Foundation as a vehicle to intervene in so many areas of human needs. This trait of hers, many agreed, resonated in the birth of the non-government organisation (NGO). Not only that, Siju, as she's fondly called, is known to have nurtured charitable hopes and determination to help women efficiently thrive in life.
Siju, who clocked 59th on Sunday January 8, said her dream is to make sure Arise affects every part of human life globally in terms of health, housing, education, empowerment, farming and many more. The gorgeous woman added that in the last 15 years, her foundation has achieved so much by putting structures like hospitals, school buildings, computerized libraries, and boreholes in many communities in Abuja, Ondo, Imo, Kebbi and Lagos states to mention a few. Through her hum10anitarian work, she has also branded a food basket called 'Arise Pink Bucket' —with contents that include food items like rice, semovita, tomato paste, and groundnut oil— distributed to every local government across Nigeria.
Suring the last Arise Women Conference held on Saturday October 29th at the Trinity Towers, City of David RCCG, Lagos, no fewer than 10,000 were given the Arise food basket that contains varieties of food stuff. The hospital built in Kabusa, a suburb area in Abuja for the less privileged, has continued to give free services for people in the area, with several success stories in operations.
Siju who shares the same birthday date with Wife of Lagos State Governor Mrs Ibijoke Sanwo-Olu and Minister for Women Affairs, Paulen Tallen, two women who have been part of activities of Arise Women at several occasions also used the opportunity to celebrate her womenfolk. In her word " I celebrate with Mrs Sanwo-Olu and Mrs Tallen who have been part of success story of Arise on the birthday, their shining lights will not dim"
Meanwhile, a thanksgiving will be held in his honour at the Trinity Towers RCCG, Lagos where thousands of individuals will also be empowered under the auspices of the Arise Women brand.