Governor AbdulRahman AbdulRazaq of Kwara State, Senator Oyelola Ashiru, Chief AbdulRaheem Oladimeji, Rear Admiral (Dr.) Azeez Bayo Afolayan (Rtd) and 36 other dignitaries were among those  conferred with chieftaincy titles as Oloro of Oro Kingdom, Oba AbdulRafiu Ajiboye Oyelaran 1 celebrates his 20th coronation anniversary last Saturday.
The chieftaincy titles' conferment, which was held at Oloro's palace in Okerimi Oro was part of the grand finale activities rounding off the celebration which began November 1, 2022.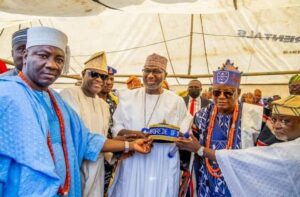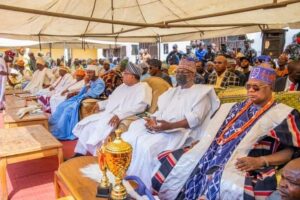 The celebration has, since its commencement, featured a number of activities including a football competition between 10 public secondary schools in Oro Kingdom and a quiz competition among 11public secondary schools..
The Chairman of the Anniversary Committee, Chief Adeola Afolayan, had called on all sons and daughters of Oro Kingdom as well as other stakeholders to join hands and combine efforts to make the occasion a huge success.
He congratulated the governor and other recipents of the chieftaincy titles, adding that they were selected for their strong, distinguished character and selfless services to humanity.
He equally enjoined them all not to relent on their efforts but rather to do more for Oro people, Kwara citizens and for mankind at large.
WE NEED YOUR SUPPORT TO PRODUCE EXCELLENT JOURNALISM AT ALL TIMES.
SUPPORT US AT NEWSROOM NIGERIA @ Newsroom Communication Services: 2042789398, First Bank of Nigeria.