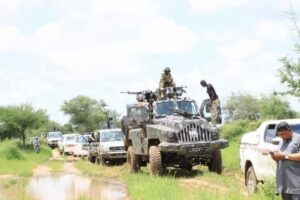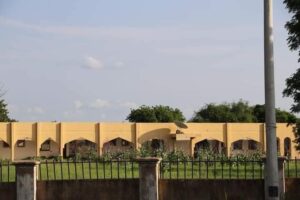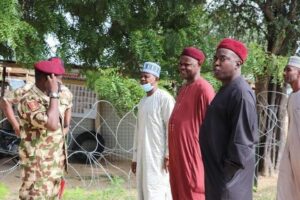 Sequence to the inauguration of a resettlement committee set up by Governor Borno Professor Babagana Umara Zulum mni on 4th July 2022 to reconstruct and resettle the Internally displaced Persons (IDPs) of Gudumbali town Which is the headquarter of Guzamala LGA of Borno State.
Governor Zulum charged the Nigeria Army to recapture the town to enables the ongoing rebuilding and resettlement process of his administration.
On 20 August 2022 the Nigeria Army Special Force Chabbol in collaboration with that of Cross Kauwa including a military formation in Damasak led by the Garrison Commander 7 Division Maiduguri Brig AGL Haruna alongside with Brig AD Abubukar from the theatre command operation hadin kai and Maj B Dabo Commanding officer Special force Chabbol accompanied the committee to moved into Gudumbali town for assessment of the destroyed community which is the last Local Government headquarter that was not recapture in Borno by the Military and believes to be a stronghold for the ISWAP/Boko Haram insurgents.
It could be recall that in 2014 Gudumbali town witnessed its first attack by Boko Haram and the communities were displaced to Monguno and Maiduguri the state capital, they were returned 2018 by the current Governor Zulum while he was the pioneer commissioner MRRR. Gudumbali also faced another attacked in 2020 and they have been in displacement up to date.
The committee chaired by the Honourable Commissioner Ministry of Local Government and Emirates Affairs Hon Sugun Mai Mele and the Honourable Commissioner Ministry of Reconstruction Rehabilitation and Resettlement (MRRR) Engr Mustapha Gubio as Co Chairman of the committee, Criss Crossed Magumeri, Gubio, Damasak towns to reached Gudumbali. While in Gudumbali town the committee moved in to accessible areas due to scrubs and bushes to assessed the public buildings such as Central Primary School, LG Secretariat, General hospital, 20 housing units, Government lodge, Boreholes and Central Mosque that are been destroyed by the insurgency.
Hon Sugun while in Gudumbali said the committee will maintain the tempo to assures the commencement of reconstruction and rehabilitation works immediately, urge that the committee will immediately submit its findings and recommendation to the Governor for final approval.
The Honourable Commissioner Ministry of Reconstruction Rehabilitation and Resettlement (MRRR) Engr Mustapha Gubio who is the Co Chairman of the committee, said the committee first priority is to have a military formation in Gudumbali town so that reconstruction and resettlement process will be achieved in a short possible time.
Terms of reference of the committee:-
(1) To clear scrubs and waste and put in place all requirements that will ensure safety of lives and properties on return.
(2) To access and repair all damaged facilities such as, LG Lodge , LG secretariat, health, water, school etc and also facilitate the establishment of civil authorities on ground.
(3) To identify IDPs who are willing to return to Gudumbali town with a view to returning and resettling them in their communities
(4) Another or other matter incidencial to the smooth and safety of lives and properties.
The committee on reconstruction and resettlement of Gudumbali town as at 18:27 evening hours to 23:41 late night hours from Gudumbali town transversed Zari, garanda , bultuwa communities of Guzamala LGA and that of Goni sulumti, wakilti, layi , kinari, mamu and SanSan of Mobbar LGA communities to spend the night in Damasak the Headquarter of Mobbar LGA. Those communities listed above has people living in them, but due to the terrain by rainfall.
Other Members of the committee Permanent Secretary MRRR Engr Abba Yusuf, Perm Secretary Housing and Energy Mohammed Kyari Abdu, Hon Tijjani Special Adviser on Animals and Fisheries, Muhammad Musa Zarami Head of Humanitarian activities NEDC, Bunu Monguno office of the Coordinator Humanitarian activities and sustainable development goals, SEMA, NEMA, M Gas Mobbar Secretary Mobbar LGA, Nigeria Police Force, DSS, NSDSC, among others.
Those who accompanied the committee are the Executive Chairman and top officials of Guzamala LGA, District head of Gudumbali Zannah Waziri Ibrahim. Musa among others.