THE ruling All Progressives Congress (APC) has vowed to deal with the party's national leader and presidential hopeful, Bola Tinubu, over his outburst against President Muhammadu Buhari on Thursday.
The party's national chairman, Abdallahi Adamu, disclosed this while addressing journalists in Abuja on Saturday.
Adamu said Tinubu's utterances "are very, very insulting. It's very unbecoming for a person of that standing to do what he did to the sitting President of the Federal Republic of Nigeria, the President produced by the votes of the APC."
Tinubu had boasted that he brought Buhari out of political retirement in 2015 after he had failed in three presidential elections and made him President.
He said it was his turn to become the nation's President after Buhari's two terms of four years each ends on May 29, 2023.
The former Lagos State governor added that he single-handedly made Dapo Abiodun Ogun State governor, subtly accusing the governor of abandoning him for Vice President Yemi Osinbajo, who also eyes the presidency.
Tinubu made the claims in Abeokuta in the presence of the Ogun State governor when seeking delegates' votes in the party's presidential primary coming up on Monday in Abuja.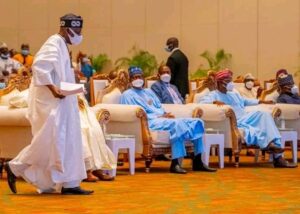 He, however, made a retraction on Friday after facing massive condemnations from Nigerians over the outburst.
The Blueprint newspaper reported the APC's chairman saying Tinubu's retraction and apology were insufficient.
"He went as far as saying how Gen. Muhammadu Buhari went to him, citing instances of even prostrating in tears begging him to endorse him and to support him for the presidency. He claimed Buhari went to him.
"Though he is the President, he belongs to everybody. It is amazing how a fellow APC person would make that kind of comment in that kind of circumstances about the President. We take exception to this. It has shown that he does not show any appreciable level of respect for the office of Mr President.
"Therefore, we want to make it public that we are saddened by what we saw in the video, in that reportàge, and we condemn it in the strongest of terms."
Adamu said his party hoped that Tinubu and anyone within the APC fold would never make such an outburst again.
"Yes, yesterday we saw some part of a retraction, but that effort is inadequate. It is not sincere. It is not in-depth enough. It doesn't wipe out the impression that that event has left in our minds."
The party chairman said when Tinubu made his claims, the presidential screening committee had not presented its report to suggest that the committee disqualified him from participating in the presidential primary.
"This morning, we saw some traces of withdrawal of those statements. You see, these are statements that are his intention of actual action. Yes, we can't say we refuse not seeing on the papers. It happened. He said he has the greatest respect for the President.
"You see, in Hausa, there is a proverb that once you take hold of any amount of grass from a thatched house and you pull it off from the roof, you can't replace the same number of grass. What is out is out. What he did say was not an apology. It's just like trying to retract, and you say I didn't mean this. It's a problem of misinterpretation. It is not a regret.
"If there is the need to penalize any party member, not just Bola Tinubu, anybody, we will bring him to the party book. Anybody as we watch events as they unfold."
It is not clear yet if Tinubu will participate in the Monday's primary.
The screening committee said it had pruned down the 23 aspirants for the presidency on the party's platform to 13.
It also advised that the party's leadership further reduce the number.
President Buhari is expected to name his preferred candidate for the party on Sunday.
(ICIR)
WE NEED YOUR SUPPORT TO PRODUCE EXCELLENT JOURNALISM AT ALL TIMES.
SUPPORT US AT NEWSROOM NIGERIA @ Newsroom Communication Services: 2042789398, First Bank of Nigeria.