By Nelson Ekunjumi
Following APC Presidential candidate Asiwaju Bola Ahmed Tinubu choice of his running mate in Distinguished Senator Kashim Shettima for the 2023 presidential election, it has generated lots of debates and discussions across the polity and beyond with divergent views for and against the duo on the basis of their same religious faith. In addition, this debates and discussions on the subject matter will continue even till the eve of the election in February 2023.
Well, with all sense of modesty and responsibility, one would like to speak to the issue within the context of the diverse religious nature of the Nigeria state and people.
It is a known fact that Nigeria as a country is a multi ethnic and religious society. Like every society where the level of illiteracy and poverty is high, religion becomes the cheapest and easiest means of subjugating and manipulating the people for reasons that are not far fetched, afterall, we all agree that where religion is involved, rationality and logic takes flight.
To run away from the fact, that religion does not matter in a society like ours, is playing the ostrich. So long as the people are poor mentally and materially, so long will they be susceptible to the manipulations that religion brings.
Sadly and unfortunately, at every turn in our development, interests and persons have always played the ethnic and religious card to achieve their aim and purpose, which is never about the interest of the mass of the people.
However, we owe it to posterity to refresh our people's memory on where we are coming from, the journey so far and make it known that we can only conquer our challenges and make progress as a people if we are united and focused on issues rather than primordial sentiments.
Now to the present Asiwaju Bola Ahmed Tinubu and Senator Kashim Shettima Presidency debate, one remembers this same scenario during the Social Democratic Party (SDP) late Moshood Kashimawo Olawale (MKO) Abiola and ambassador Babagana Kingibe presidency duo of same religious faith against the National Republican Convention (NRC) late Alhaji Bashir Tofa and Dr Sylvester Ugoh of mixed religious faiths during the build up to the 1993 treasonably annulled presidential election won by late Chief MKO Abiola.
Just like today, when the choice of Babagana Kingibe of the same religious faith as the President elect MKO Abiola was made, there were official and unofficial subterranean plots by even the military dictator General Ibrahim Badamosi Babangida to scuttle it for his personal agenda of transmuting to life president. General Babangida administration tried every evil trick in the books to scuttle the presidential ticket coming to reality under the pretence of, national unity is being undermined by the joint same religious faith ticket of the candidate and even engaged civilian collaborators among which was the infamous Association for Better Nigeria (ABN), but God scuttled all the evil plots and democracy triumphed.
Fortunately, when elections held on June 12 1993 against all evil odds and the will of the dictator and his acolytes, poor Nigerians across all divide, made it known with their votes whose result was public before the treasonable annulment, that they were more concerned about their condition being mitigated by a competent, capable and visionary leader in MKO Abiola, than the religious card that was played and failed.
Across Nigeria, Chief MKO Abiola and Babagana Kingibe a joint ticket of same religious faith, defeated his opponent of mixed religious faith resoundingly even in Christian dominated communities, towns and his opponent backyard. The message of Nigerians was very loud and clear, that poverty does not discriminate between christians and Muslims or any other faith, so for them, all they wanted was a better life for themselves and generations unborn and not religion.
The treasonable annulment of June 12 1993 Presidential election was only possible because former military dictator Ibrahim Badamosi Babangida knew he could play the religious and ethnic card,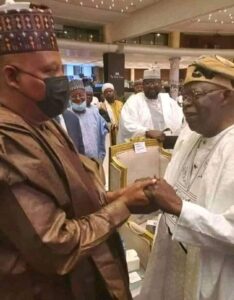 which he did very well until it crumbled due to the tenacity of the Nigerian people in insisting on the peoples power of June 12 and chased him out of office and power. The annulment and it's aftermath brought Nigeria to her knees and reinforced our division which was festered by disgruntled and unpatriotic elements who are still at work even till date.
Sadly, we are that juncture in our political life again, when same agents and their remnants are about to do same, using same strategy, but the ball is in the court of Nigerians to choose between better life for ourselves on the basis of competence, capacity and visionary leadership or continue to be subjugated by interests whose major agenda is to divide us along our fault lines of religion and ethnicity at our own peril.
Nigerians, the ball is in our court.
Nelson Ekujumi,
nelekujumi@gmail.com